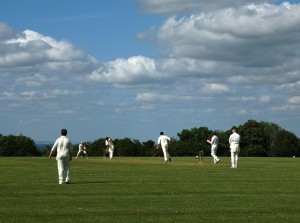 Last Sunday there was a break in what appears to have become in recent years the accustomed pattern of weather for the English month of May – chill, damp and unremittingly grey! The cricketing gods clearly smiled on me, however, for the day marked my first (and quite possibly only – though who can tell?) appearance in whites this season. The match was to be played on the downs above Guildford.
Long-time scholars of these humble scribblings might sense at this point that they can distinguish the sounding of some distant carillon – and they would be right so to do. Two years ago – almost to the day – I posted a screed entitled 'Perfect Day' in which – amongst other things – I extolled the simple pleasures obtained from the equivalent fixture then – the which was played on the self-same spot.
To quote myself (odious practice though that might be):
"The match was played in a suitably amiable spirit, I scored a few runs and the right side won. It was, all in all, a most satisfactory result and I rolled home close to 9pm tired but happy."
I am delighted to report that I can repeat that sentiment word for word this year, even though – on this occasion – the spoils went to the opposition. The match had gone to the final over, was close and satisfying, and everyone was content.
The substance of my posting two years ago – however – concerned less the Arcadian charms of the occasion itself, but more the fact that such pleasures counted for little if one happened to be – as I was then – separated from one's significant other. The Kickass Canada Girl was at the time but a few months into her sojourn in Victoria and I was missing her badly.
How different are things now! Not only was the Girl waiting to greet me when I stumbled back home after the match, but she had earlier driven over to Guildford to watch a little of the game – in spite of knowing that I would be in the field at the time and thus unable to speak to her beyond the odd snatched exchange. She strolled instead around the boundary – looking particularly windswept and gorgeous in the sunshine – and I found myself accruing serious kudos from my fellow flanneled fools for having snared what the tabloid press would most certainly term 'a stunna!' (defined by the Urban Dictionary as – "Someone who is always fly with gear, cars, jewelry." – whatever that means!).
I am minded of a comment made by Oldest Friend (of whom I have written previously in these annals) concerning his wife. "A day not spent in her company" – he opined – "is a day wasted".
He's not wrong…