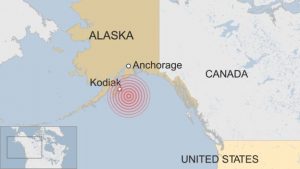 Last night a 7.9 magnitude earthquake struck the coast of Alaska near Kodiak. The epicentre was some 150 miles off the coast and 12 miles deep but the quake raised fears of a tsunami along the Alaskan and British Columbian coastlines and warning sirens were sounded in particularly vulnerable areas.
With regard to Victoria Cormac O'Brien reported in The Martlet:
"At 1:40 a.m. this morning, the Government of Canada issued a tsunami warning to residents in low-lying areas of Greater Victoria and residents on the west coast of Vancouver Island.
The warning was made via Twitter, online CBC broadcasts, and on television. Official emergency Twitter accounts for the region recommended moving away from beaches, bays, and inlets, and instead move to higher ground away from the coast. There, they should await instructions from local officials."
When it rapidly became apparent that there was to be no significant tsunami – waves being no more than a few feet in height – the warning was cancelled and the all-clear given by 4:30am.
Now – although there are reports of early morning gatherings on Mounts Tolmie and Doug, I suspect that many people in the Greater Victoria area discovered that they had missed the warning in much the same way as did we: The Girl finding the tweets on her phone when she awoke.
Should we be worried by this?
Well – probably not. Living on the east coast of Vancouver Island and surrounded by the Gulf Islands we are probably reasonably well protected against waves arriving from the open Pacific to the west. Further, the tsunami warnings advise moving to ground at least 30 metres above sea level. Though our home is only about 500 metres from the shoreline we are a surprising 60 metres above the high tide line.
No room for complacency of course and yet another reminder of the indifferent powers of Mother Nature.