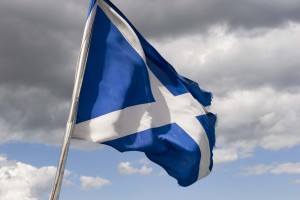 "I haven't found anything to complain about. But being Scottish, it won't be long."
Peter Capaldi
Regular sufferers of these jottings will be familiar with my routine but wildly varying updates on the current state of Scottish rugby. My first item on the subject – way back in 2013 – introduced the eternal conundrum of supporting a national side whose fortunes have experienced more ups and downs than a roller coaster. The strangely stoic optimism that I believe is part of the Scottish makeup is essential if one is to be able to live in stasis with Kipling's two imposters.
In recent times – however – the fortunes of the Scots have taken a most pleasant upward trajectory. Under the patient tutelage of (stern!) Vern Cotter and more recently Scottish rugby legend, Gregor Townsend, the side has steadily improved and positive results have started to follow. This very summer the Scots – having been largely ignored by Warren Gatland in his Lion's selections for the All Black's showdown – toured the southern hemisphere themselves. In Australia they took on – and beat – the number three side in the world.
Last weekend – in the Autumn Internationals – it was their turn to face the All Blacks in a Murrayfield encounter that many predicted would turn into a rout. The Scots not only matched the fearsome Kiwis for much of the game, but at times made them look distinctly ordinary. With time on the match clock almost expired the Scots trailed by a mere five points and their superstar fullback, Stuart Hogg, broke free down the left hand touchline. For a second it looked as though a match-winning try might be on until the All Black's fly half, Beauden Barratt, scrambled Hogg into touch at the last moment.
Fears that the Scots (already missing a number of key players to injury) might have shot their bolt and be unable to raise themselves again this week for their rematch with Australia (who were themselves smarting from a somewhat exaggerated defeat by the English the week before at the Cabbage Patch) were only heightened when Stuart Hogg injured himself during the warmup for the match and had to be replaced.
It turned out to matter not a jot. Neck and neck as the first half drew to a close one of the Aussie forwards, Sepoke Kepu, essayed a rash challenge on Hamish Watson and was rightly shown the red card. Though there have been many examples of matches in which being a man down has not greatly affected the outcome, such was not the case on this occasion and the Scots showed admirable ruthlessness to put the Aussies away in a record 53 – 24 demolition.
For now at least the days of being tagged 'plucky losers' are a thing of the past. The Scots have shown that they now have strength in depth and that on their day they can live with just about anyone.
"Lang may yer lum reek" – as they say north of the border!
Many congratulations!