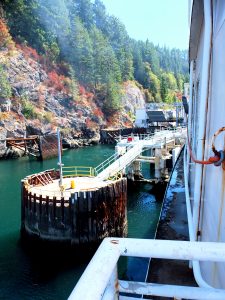 Up at crack of dawn (well – almost) to catch the 8:00am ferry to Tsawassen. We are off once again on our travels.
There is this time – however – a difference in that we have with us a visitor – a relative stranger to these shores. My brother has come from the UK to stay with us.
This is not his first visit to Vancouver Island – he was here in 2010 for our wedding – but this is his first trip since we moved here last year and he is indeed the first guest from the UK to stay in our new home. The first of many we hope.
I have not to this point mentioned his visit through the agency of these jottings for good reason… I was sworn to secrecy! My brother has just turned sixty and his two really rather splendid sons (and his eldest's excellent wife) arranged this trip for him as a birthday surprise. Kudos, chaps!
Anyway – we are off to the interior for a short break. No details as yet as some of that, too, is intended as a surprise.
What fun!