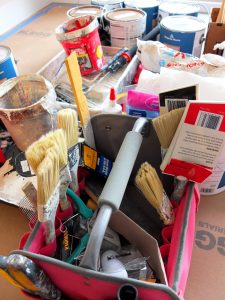 "It is not your paintings I like, it is your painting."
Albert Camus
Ho, ho! Little painting related joke there… which is most apposite because much of our time at present is spent with paintbrush and roller in hand – or failing that with filler and sanding block.
The main floor of our lovely home comprises a living room, a dining room area, a kitchen, master and guest bedrooms, two bathrooms, a laundry, several hallways and four sizeable built-in closets… All of which must be painted before our renovation is complete.
As painters we are most fortunate that our dry-waller – who gave us splendid new non-popcorn ceilings – also painted them as he went. Further, our excellent contractor budgeted for his painter to handle the woodwork – baseboards (skirting) and trim. Indeed, he would have done the lot were it not that I felt guilty about our playing no role at all in the proceedings (other than in the financial sense).
So here we are – with several thousand square feet of wall to be prepped (filled, sanded and cleaned), primed as required and given two coats of decent quality eggshell (or pearl for the bathrooms).
In this enterprise we are even luckier to have a dear friend who not only operates a sideline in interior decorating but is quite the most ferociously perfectionist craftswoman I have encountered. When it comes to the laborious, time consuming and delicate operation of cutting in it is my view that she has no equal. Furthermore she seems actually to relish the challenge, leaving to the 'oily rags' like me the prosaic duty of wielding the roller – a low-order task if ever there be one!
Even luckier (for us!) she is gifting us her time and expertise – and extensively so – on a quid pro quo basis. There can be no doubt at all as to who is getting the better part of this particular deal.
We are truly blessed!