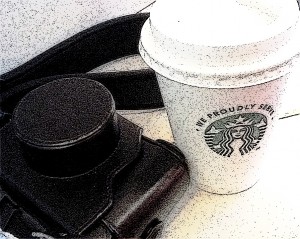 As a teacher of drama I am aware that I perhaps view the world – on occasion – through slightly different eyes to those not so involved.
This thought came into my head recently as the result of my having to make a trip to Loughborough, which is –  for those unfamiliar with the geography of the United Kingdom – in the Midlands, approximately 90 minutes north of London by train.
Which fact is germane – since I decided to eschew my normal practice and to take public transport rather than driving. I am still somewhat unsure as to exactly what made me do so: the weather had turned colder and I had been doing a considerable amount of driving of late, so I perhaps felt that what was needed was a relatively stress-free peregrination.
Why I thought that public transport would afford such I do not know!
Our end of Berkshire is not quite on the opposite side of the capital to the Midlands, but given the transport topology of the south of England it might as well be so. I paid my customary visit to the InterWebNet to ascertain the optimal route and discovered that I would needs journey into and across London before heading northwards out into the wilds of Leicestershire. This meant leaving in the frosty dark of the early morning, driving to the station, taking two trains to get to Paddington, taking the tube (underground or metro for those not of these parts!) across the metropolis to St Pancras and then finally boarding the intercity train to Loughborough.
The morning rush hour in the home counties is no fun at all, which has a great deal to do with why I routinely drive 35 miles in to School rather than relying on public transport (assuming that I could ever afford such!). For the second leg of my journey north – from Reading to Paddington – I had a reserved seat. Unfortunately I boarded the designated carriage at the wrong end. The train was non-stop to London and the coach so packed with standing passengers that I had to abandon any hope of pushing my way down the length of it to find my place. I do hope that somebody else enjoyed it!
"All very interesting" – I hear you cry – "but what has this to do with drama?"
Well – the portion of the first year drama curriculum that covers physicality includes an element concerning personal space – that private but invisible zone that we maintain around ourselves for our physical and emotional protection. In the course of this study we are – naturally – particularly interested in the dramatic possibilities of incursions into this space, which usually occur as a result of one character attempting to impose his or her status on another. Imagining an RSM lecturing an incompetent private at particularly close quarters, or a hoodlum intimidating his victim (to take just two obviously rather extreme examples) should give some idea as to what I refer.
Needless to say – we usually guard this space jealously, and when we do allow or invite others in it is normally a clear indication of the closeness of the relationship concerned.
On the commuter train – to the contrary – all of this goes out of the window! One finds oneself crushed in extreme close proximity with others, including those of the opposite sex for whom such intrusion would normally be a cause for raising the alarm! It seems that the modus operandi in such cases is simply to pretend that the incursion is not taking place at all – which is most strange.
I have always found the London commuter experience to be a puzzle. The wealthy banker may leave his luxury domicile in the home counties – given, perhaps, a lift to the station by his trophy wife in his top-end BMW. Once in the city he sits in his luxurious office on the upper floors with a panoramic view of the capital, his needs being serviced by PAs, underlings and secretaries. In between – however – he endures the commuter crush with tens of thousands of others in what is indubitably a pretty low-order experience… and for the 'privilege' of so doing he pays what can only be described as an eye-wateringly extortionate toll.
Bizarre!