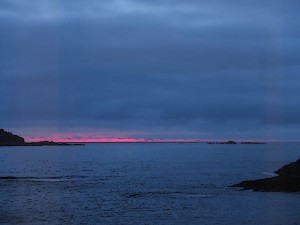 All journeys have secret destinations of which the traveler is unaware.
Martin Buber
Time for some reflections on our recent sojourn in British Columbia.
The first thing to say is how very deeply grateful we are to our dear friends in Saanichton. They once again took us into their home, fed us, entertained and cared for us. They invited us to share their family Christmas – for which they cooked a magnificent dinner – and they laid on a splendid party at the New Year which was – in large part – also a celebration of my 60th birthday. They lent us vehicles regardless of their own convenience, including one for our four-day jaunt up-island. They went – as they always do – above and beyond at every conceivable juncture and I fear that we did not sufficiently express or demonstrate our gratitude. We will make up for this on future occasions. They are very special people and we wish them endlessly well.
The whole expedition to BC was quite amazing and most enjoyable. It was good to be able to visit friends and relatives in Kamloops, Victoria, Duncan and Nanaimo – as well as to be able to enjoy our celebratory down-time in Tofino. It had been a long eighteen months since my last visit to the province and there was much catching up to do…
…almost too much – though that perhaps sounds ungrateful, which I am most definitely not. When in BC I always find myself – with one eye on the future – trying to imagine the life that we will lead when we have finally moved to Canada. The demands of friends and family – though always most welcome – obfuscate to an extent the true picture of how life will be when each day is simply 'normal' rather than being a special occasion.
What is beyond question is that the Kickass Canada Girl and I find ourselves – with each visit – not only more certain of where we intend to end up (almost to the block!) but also more ready than ever to find ourselves there sooner rather than later. I am – however – all too aware of the dangers of wishing away one's life so I will say no more.
I spent some time this trip re-visiting what have already become favoured haunts around the peninsular – the Inn at the Brentwood Lodge, Russell Books in downtown Victoria itself and Serious Coffee in Sidney… The Girl is in agreement incidentally – regarding the latter – that they brew the finest cup of Joe on the island, if not in the province… and I just love the whole West Coast ambiance.
One small incidental sadness – Orr's Family Butcher – which used to be in Brentwood Bay and on which I commented here – is no more. They seem to have embarked on an expansion project that was possibly ill-timed. I – for one – will mourn their loss.
So much for looking back though. In the next post I will concentrate on things to come…