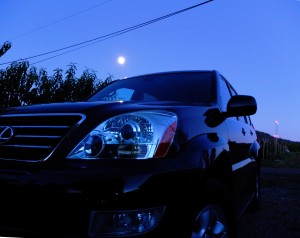 Strange the way things turn out…
As I posted on Friday of last week, we were off on the Saturday morning to look a 4×4.
My choice of vehicle is based on the firm conviction that – within the next year – I will purchase some sort of small power boat so that I may indulge my piratical whims about the Gulf Islands.
Much research and diligent enquiry suggested that the ideal vehicle for the job was the Toyota 4Runner which has – in its V8 incarnation – sufficient power to drag around some 7000lb in its wake. Furthermore, the truck is built like a tank and will pretty much go on forever – making it entirely possible to find a ten year old model with yet plenty of life in it. The only downside is that this famed longevity keeps the used price somewhat on the high side.
Such it was that we viewed on Saturday morning. Unfortunately, through the vehicle was itself sound it had not been loved and the interior was in a pretty poor state. We decided to pass.
4Runners of the requisite vintage are in short supply and it looked as though a long trip to the interior might be necessary to effect a purchase. Then, almost by chance, the Kickass Canada Girl – on glancing through the online version of 'Used Victoria' came upon an advert for a twelve year old Lexus GX470. Aficionados will be aware that the Lexus is basically the 4Runner platform with a rather more luxurious facade atop. Even better, this particular specimen was but a few streets away. We paid a visit.
Though being of a considerably higher mileage than we would have liked, the Lexus looked pretty much as though it were fresh out of the showroom. Not only had it clearly been well loved, but it was also complete down to the least detail – the handbook and service record au naturelle, but also the comprehensive original Lexus toolkit and first aid kit.
The owner – the vehicle's second – had advertised it at a very reasonable price but had no bidders, so had just dropped the price by $2,500. The Girl – as is her wont – enquired as to whether there might be any 'wiggle' room. The owner – without so much as a proper haggle – stated his bottom price, some $1,500 lower yet.
We asked if we could get the vehicle checked over – the which we did on Tuesday following – and were informed that the brakes needed renewing. The owner most kindly went halves to the tune of a further $500!
What a bargain – and a completely unexpected one.
And 'Lorelei'?
Well – a vehicle as sophisticated and elegant as this one can only be a lady, though perhaps one with a mischevous spirit. The Lorelei was – of course – a siren, luring innocent(ish) men to their doom.
Seemed like a pretty good match…