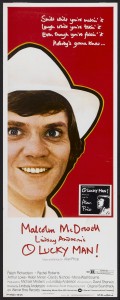 "Smile while you're makin' it. Laugh while you're takin' it. Even though you're fakin' it. Nobody's gonna know" – Alan Price

One of the reasons that I have not previously considered writing a blog is that I feel somewhat ambivalent about the motivation so to do. Creative writing – which in my case means writing plays – seems quite different. When I finish a project and launch it into the world (however insignificant a part of the world that might be) the piece ceases to be mine and takes on a life of its own. Certainly there is something of me in it, but it is not necessary to know anything about me to engage with the work.
Blogging feels more self-centered – more about me, me, me! Why would anyone want to read my ramblings? Isn't it somewhat pretentious to imagine that anything I might say could be of any interest or value? Or am I perhaps just being a bit too self-consciously 'English' about it all?
The truth is that I am a lucky person. More than that – I have also been very fortunate. Opinion seems to be divided as to whether these are one and the same thing, and indeed as to whether either is simply the outcome of chance occurence or can be influenced by our actions and behaviour. It may be the case, of course, that the nature of our fortune derives simply from the way that we react to chance events.
In an unusual twist we find new age thinking – with its Law of Attraction – almost entirely in ageement with 'science'. Richard Wiseman, professor of psychology at the University of Hertfordshire, has carried out a 10 year study into the subject. His conclusions are fundamentally that those who believe themselves to be lucky invariably turn out to be so. Being open to opportunity and focussing on positive outcomes tends to lead to better fortune.
I don't doubt this, but I do believe that my life experience also contains much good fortune that has been entirely outside my influence.
I am a boomer – one of the most blessed of generations.
I grew up in the sixties. Whatever re-evaluation there might have been of late concerning that golden age most of us are deeply grateful to have lived through it.
Despite having no idea what I wanted to do with my life I have had a fascinating career and have had the good fortune to work in some very special places and with some special people.
I have met many wonderful, clever and fascinating people, with some of whom I have been married, had relationships or developed friendships.
I have always been able to indulge my creative impulses and have met others with whom to do so.
I have always been in final salary pension schemes – though that was never something I looked for. I joined my current scheme a month before it closed to new members. This, naturally, is of particular import now.
…but, of course, most of all…
I met Kickass Canada Girl. She came eight and a half thousand miles to find me and, but for the most fortuitous of circumstances, we might never have met. As all my fortune and happiness is bound up with her I would say this was spectacularly lucky!
I suppose my fear is that, having been this fortunate, I should just shut up and keep quiet about it. This does raise the question of what is the appropriate reaction to being lucky. Should I feel guilty that there are many in the West worse off than I am? Should I feel even more quilty that many in the rest of the world are far worse off than 99% of us in the West?
Perhaps the best response is to celebrate all good fortune, my own and others, and to do my whatever I can to increase the happiness of those that I know and those that I meet, as well as – wherever possible – those that need it most.
"If I am only happy for myself, many fewer chances for happiness. If I am happy when good things happen to other people, billions more chances to be happy!" – The Dalai Lama.