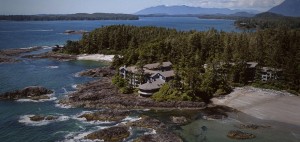 Herewith a splendid example of the ever-changing nature of our mortal existence which betrays as indolent even such a fluid and instantaneous medium as the InterWebNet.
Barely had I hit the 'publish' button on my previous post – thus rendering fixed some thoughts that had hitherto been merely nebulous –  than the Kickass Canada Girl and I – in an unexpectedly abrupt resolution to a previously extended deliberation – finally reached mutual agreement as to the nature and locale of my sixtieth birthday celebration. Yes – I know that it is the best part of a year ahead – but our online researches had revealed that if we did want to pass the occasion at the Wickaninnish Inn on Chesterman Beach then we had better get a booking in sharpish, before all of the decent rooms were taken.
And we decided that we did…
Much more on this later of course, but those whose interest is piqued can find details of the inn here – and if you want to know more about the immediate area itself I would direct you to Adrienne Mason's splendid blog (and book!) here.