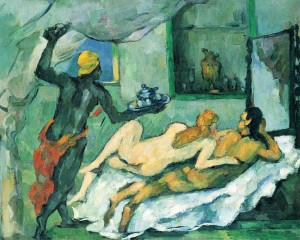 "A human being would certainly not grow to be seventy or eighty years old if this longevity had no meaning for the species. The afternoon of human life must also have a significance of its own and cannot be merely a pitiful appendage to life's morning."
Carl Jung
In the final part of my brief series on the subject of home-sickness posted in the run up to Christmas last year I concluded that the malaise to which I had briefly fallen prey that November had been caused in the main by feelings of a loss of significance – a lack of purpose – and of the concomitant confusion concerning my place in the world. I further opined that the topic of 'significance' was itself… er… significant and that I would needs return to it in some future disquisition.
Now seems as good a time as any so to do.
As noted in the aforementioned post my emigration to Canada was not the only important event with which I was occupied last summer. I had also reached the end a forty year career in education. I consider myself to have been massively fortunate to have had the opportunity to work in two of the UK's leading public schools (public in the English sense here) and I felt toward the end that in my primary career in IT (primary in the sense that it was that for which I was most highly rewarded) I had gone about as far as I could go. I had acquired something of a reputation amongst those peers whose opinions I most respected and had little need to prove myself further.
The English public school is an ancient and complex beast – particularly those amongst their number that focus on boarding. These institutions have fashioned an uniquely self-contained and multi-layered culture which incorporates not only the academic, the sporting and the artistic, but also their own individual ethos and mythology. Some go so far as to insinuate into the English language their own vocabulary.
Those who work for these august bodies can choose to hold themselves aloof from such aeon-aged Weltanschauung – or they can cheerfully subscribe thereto. It will surprise no-one that I opted for the latter course, throwing myself into as much of School life as was feasible for one who lived several hours' drive hence.
I was also for a decade a resident (being joined there in 'mid-term' by the Kickass Canada Girl) of a small village in South Buckinghamshire – the sort of rural idyll in which everyone knows everyone else's business in rather too much detail. I by no means ranked amongst the luminaries (and there were a fair few of them!) but most of them knew who I was.
I served the village for a number of years as secretary to its cricket club. To those for whom the notion of 'village cricket' stirs thoughts of amiable amateurishness – or perhaps summons up images redolent of bucolic quaintness – I should point out that within the appellation itself the words 'village' and 'cricket' get equal billing. Whatever the standard of the play and the good nature and friendliness of the participants, membership of such a club does expose one to all of the pressures and pomposities attendant to rural politics and personalities.
This whole slightly convoluted explication is by way of an illustration as to how the structures that I had (mostly) sub-consciously adopted to support my life in the UK had successfully furnished me with a sense of belonging – a sense of purpose. I knew my place. Nothing out of the ordinary in that, of course… we all do pretty much the same. Reaching the end of a working life can, however, lead to a dislocation from this sense of place as, of course, does moving to a strange country. Doing both at the same time virtually guarantees it and having to start afresh to rediscover one's sense of worth from scratch can be intimidating. In my case one of the side-effects was my brief bout of home-sickness.
As might be determined from those pre-Christmas posts my response to the malaise was to indulge – as is ever my wont – in a little navel-gazing. Interestingly the topics to which I have alluded above were not the ones that featured most strongly in the resultant retrospection.
Those that were – however – must wait for next time.