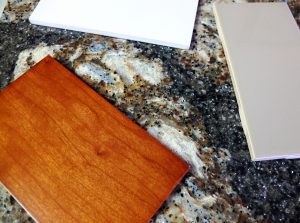 …before the other thing!
If it is October then there must be renovation in the air…
Good contractors are much in demand. Excellent contractors are really difficult to find and,  should one be lucky enough so to do, one must needs accept that their schedule will take precedence over one's own.
Long before our contractor finished our shiny new deck back at the start of June we had started carefully lining him up to commence work on the interior of the house. October was the earliest that he could manage and even that has since slipped a little to 'the end of October'.
Well – we have enjoyed a blazing summer on our lovely deck but the Fall is now upon us and the end of said month is rapidly approaching. Ergo it must be time to surrender ourselves once again to the joys of living on a construction site.
We have a number of immediate projects in the pipeline. Our kitchen urgently needs replacement. We have two bathrooms that require dragging out of the 1970s. We have flooring to update in a variety of areas and – worst of all – the entire main floor of the house is 'blessed' with what are know as popcorn ceilings – having been sprayed with that lumpy stuff that was once used willy-nilly to cover any sort of sub-standard plaster-work (dry-walling).
Being the cautious, somewhat methodical chap that I am I would very much have liked to have been able to run these projects sequentially, with adequate time for each to be fully completed before the next one were embarked upon. Unfortunately the hideous mess that inevitably ensues from the scraping of popcorn ceilings requires that that be done entire before any construction be commenced and certainly before any of the new flooring goes down. As the flooring will also run throughout that must be done at the same time that the kitchen is stripped out and replaced.
I was reluctantly forced to accept – with considerable squirming on my part – that the best way to proceed was to hand the whole floor over to the contractor for as long as it takes. We are fortunate in that we have a full walk-out basement into which we can move in the meantime. Unfortunately this will require packing everything up and moving it downstairs before the works can commence.
It will – of course – all be perfectly lovely once it is done. I will let you know how it goes…
Tags: House, Renovation