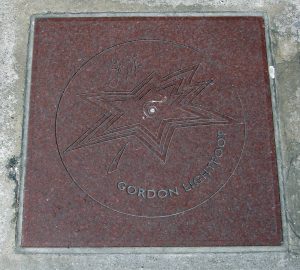 A sad evening last night…
Way back in the mists of time (actually somewhat earlier this year!) it was announced that the 'Legendary Gordon Lightfoot' would be coming to Victoria this fall for a couple of concerts at the McPherson Playhouse.
Wikipedia says of the great man:
"Gordon Meredith Lightfoot Jr. (born November 17, 1938) is a Canadian singer-songwriter who achieved international success in folk, folk-rock, and country music, and has been credited for helping define the folk-pop sound of the 1960s and 1970s. He has been referred to as Canada's greatest songwriter and internationally as a folk-rock legend."
Now – it is probably fair to say that for many of us who hail from the UK (and elsewhere 'abroad') familiarity with both Mr Lightfoot himself and with his oeuvre are somewhat limited. The name I knew, of course, but I could not bring to mind any of his classic songs.
For the Kickass Canada Girl, however, it was a different matter. She grew up on Mr Lightfoot, and his compositions – as for so many Canadians – were woven into the tapestry of her upbringing. Not a second was wasted, therefore, in placing an order for two tickets for the aforementioned show, so that she might revisit old favourites and stir some memories in the process, whilst introducing me to something that I had previously missed.
So where – the gentle reader will doubtless be wondering – does the sadness come in? Well – the Girl and I did something that we virtually never do: we left at the interval!
Mr Lightfoot used to have a beautiful rich haunting baritone voice but sadly – on last night's evidence at least – it is no more. In a form in which the words are pretty much everything, the strained croak with which we were greeted at the McPherson yesterday struggled to render many of the lyrics intelligible. In addition, Mr Lightfoot's four-piece band were obviously under instruction not to provide too much competition and were dialed back almost to comatose. Given that none of them provided backing vocals either the man's voice was left painfully exposed.
Checking his history on the InterWebNet I gather that over the years (Mr Lightfoot is 78!) illness has taken its toll and – though I would be one of the last people to suggest that he should not indulge his love of performing to the many appreciative fans who were clearly willing to overlook such frailties – I can't help but think that he needs a little help. The Girl and I saw Burt Bacharach some years back at the jazz festival in Perugia. He was 80 at the time and – recognising that his own voice was shot – had surrounded himself with three gorgeous young vocalists (male and female) to handle such 'chores' whilst he amused himself (and us!) on the piano. It made for a stunning concert!
In the case of Mr Lightfoot the Girl was – understandably – really quite upset.  When the tenderly preserved memory of something that has played such a key part in one's life is delivered such a rude awakening it can leave one somewhat shaken.