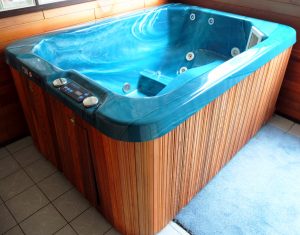 "One man's magic is another man's engineering."
Robert A Heinlein
A couple of posts back I updated the gentle reader on the progress regarding our application for a building permit, with particular reference to the hazardous materials survey that we had been obliged to commission. Should you have missed that gripping missive it can be found here.
Within that screed I mentioned that we have now further been obliged to engage a structural engineer to provide detail of the construction of our new deck. I feel compelled to explain this sudden need for us now to spend more of our hard-earned monies on bureaucratic notions.
We have – as can be seen from the attached illustration – a rather dinky little two-person hot tub which came with the house. It currently resides in an enclosed unventilated space beneath one of the decaying sun-rooms. It has been little used and is in pretty spiffing condition, but we cannot run it up as the previous owners removed its power supply when they installed the heat pump. One aim of our deck redevelopment has always been to get the tub back into action.
When our designer drew up plans for our splendid new deck he decided – on a complete whim of the sort to which designers are prone – that the perfect position for the tub would be up on the deck level outside the master bedroom and overlooking the sea. Of course, as soon as we saw the plans we knew that he was right and signed up enthusiastically. Our contractor agreed that such a thing was entirely feasible, though the new deck would need to be strengthened at the appropriate point. So far so very good…
The problem arose when the plans were submitted to the municipality as part of our building permit application. The Senior Building Inspector informed me that had we just been building a simple deck we could have done so without further ado. However, as the plans show a hot-tub on the deck it is necessary to get a structural engineer to draw up plans for something that our contractor already knows how to build, and subsequently to inspect the results and report that all has been done correctly.
I am, naturally, fully aware as to why this has to be done, but it is extremely annoying to have to spend even more money on the procedural aspect of things when all those concerned are more than capable of doing the job without interference.
And as yet – of course – not a thing has been built!
Tags: House, Renovation