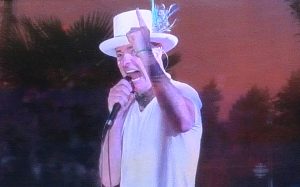 For three hours on Saturday night last Canada was 'closed'. The Canadian Broadcasting Corporation's (CBC) wall to wall coverage of the Rio Olympics was put on hold and there would even have been (had the hockey season yet commenced) a brief hiatus from the nation's abiding passion.
Much of the country instead settled in (or partied out) to watch the live streaming from Kingston, Ontario of the final ever concert by 'The Tragically Hip'.
Canadian readers will require no further explanation and can skip blithely ahead. For many of them 'The Hip' have provided an iconic soundtrack to Canadian life for the last three decades and more, capturing the essence of Canadiana to a degree matched by no other. The band is – however – largely unrecognised without these shores and, though they have achieved some recognition in the UK and elsewhere, the Americans don't seem to get them at all. This naturally endears them all the more to the inhabitants of these fair lands.
Non-Canadians might yet wonder why – in the age of the endless resurrection of their careers by those old enough to know better – quite so much fuss has been made of 'The Hip's' farewell. The answer is tragically simple. Lead singer, lyricist and poet, Gord Downie, has an incurable brain tumour. To suggest that the occasion of the final concert was emotionally charged would be an understatement.
Prime Minister Trudeau (apparently a huge fan) was in the audience and Downie took the opportunity to publicly hold his feet to the fire concerning election promises, particularly with regard to the matter of the treatment of the First Nations. It is most likely that the many fans of the band will use this exhortation to endeavour to ensure that there is no backsliding on the part of the Liberal government.
We attended a splendid 'Hip Party' hosted by our dearest friends in Saanichton, complete with big screen and sound system in the garden so that no-one would miss the show. We cheered – we sang – we danced – we shed many a tear… The moment – and the occasion – was duly celebrated.
I am, of course, a newcomer – both to this fair land and to 'The Hip'. The making of a myth – however – is easily recognised by those for whom such rites are an essential part of our existence in this realm.
I am one such.
Tags: Canada, Celebration, Loss, Memories, Music