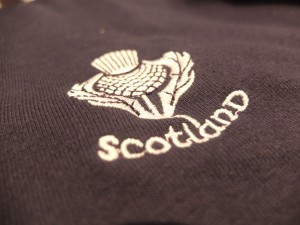 "It is clear that one is a gentleman's game played by hooligans; the other a hooligan's game played by gentlemen."
Chancellor of Cambridge University, comparing 'soccer' and 'rugger'!
Date unknown (pre 1953)
Regular readers will be aware that, in addition to my deep love for the great game of cricket, I am also a long standing aficionado of the hooligan's game. As a Scot I naturally and proudly follow and support the national side, which propensity – it has to be said – affords great training in the practice of stoicism.
Maybe it is just me (or maybe it is actually a national characteristic?) but it seems to me that those who follow Scottish rugby are possessed of the ability to maintain a degree of optimism entirely unjustified by the evidence. Regardless of how high-flown are our opponents – or indeed of how badly we were duffed-up the last time out – we absolutely and resolutely believe each time that the impossible is possible and that we will end the day victorious. It is a good thing – as a nation – that we are also blessed with the 'wee dram' – with which to console ourselves post-match.
And yet…
…every now and again the impossible does happen and we find ourselves victorious… against all the odds!
Last weekend saw the third round of matches in this year's 6 Nations tournament (for the uninitiated – England, France, Scotland, Wales, Ireland and Italy). Our reasons for optimism this time round were that the match was being played at home – at Murrayfield in Edinburgh – and that our opponents (the Irish) had lost some half a dozen of their best players to injury or suspension.
By half time any such hopes had evaporated and I had pretty much resorted to following the BBC's match coverage from behind the sofa! The match statistics showed that Ireland had enjoyed some 78% possession of the ball and an 80% territorial advantage. They had made – in addition – a number of searing line breaks that had torn the Scottish defence apart. There was only one thing in Scotland's favour. In spite of all their territorial and possessive advantages the Irish were leading by a mere 3 points to nil. For those rugby ingenues – again – this represents a single score of the lowest value.
No matter how optimistic one might have felt 40 minutes earlier, however, it was impossible to avoid the conclusion that Ireland were now likely to ramp up the pressure and to blow the home side away, a belief reinforced shortly after the break when the Irish finally crossed the try line to take the score to 8 – nil. We tensed ourselves for the opening of the flood gates.
And yet – again…
…half an hour later the Scots were leading by 12 points to 8 and holding on grimly in pursuit of a famous victory. It was as though the Irish really didn't want to win. Though they had applied immense pressure they proved themselves incapable of finishing off any of their moves, whilst the Scots mounted an increasingly heroic defence. By the end of the match the statistics had barely improved – the Irish having had 71% of the possession and played 77% of the match in the Scottish half. Scotland had visited their opponents' half pretty much only on four occasions…
…but each time they had done so – they had scored!
Some would look at such a match and say that the Scots were extraordinarily lucky to have got away with it. We – of course – see things differently. Our conversion rate from attacks was nigh on 100%. The Irish's – by comparison – was not – and they had thus clearly not deserved to win.
Naturally I celebrated with a considerably less than 'wee' dram!