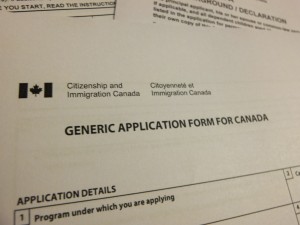 "Citizenship is a tough occupation which obliges the citizen to make his own informed opinion and stand by it." – Martha Gellhorn
As I noted in a previous post, Kickass Canada Girl is visiting the UK – for a week – at the end of May. This is a particularly pleasant surprise as I had not thought to see her until I travel to BC at the end of June.
She will be here primarily to attend her citizenship ceremony. She applied for British citizenship while she was still working in the UK and this has duly been granted. The ceremony – which apparently entails taking an oath of allegiance and listening to the National Anthem (though possibly not a great deal more) has to be attended within three months of the grant of citizenship, and will thus not wait until she is here again during the summer.
This naturally acts as a wake up call to me – particularly as we are now aiming to bring forward my immigration date to the summer of 2013 – to get started on my application for permanent residency in Canada. The forms and information pack have been acquired and it is time to set things in motion.
The procedure is – quite properly – complex. There are a number of routes by which one can gain resident status:
Skilled workers or professionals – in one of the 29 listed skilled occupations – each of which is subject to a quota and other restrictions.

Canadian experience class – one who already has work experience in Canada – again subject to other relevant criteria

Investors, entrepreneurs and the self employed – subject to the requirement to invest at least $800,000 Canadian, or to own an existing Canadian business.

Provincial nominees – those nominated by a Canadian province or territory

Family sponsored – for which one must be sponsored by a Canadian citizen to whom one is related. Again – other criteria also apply.
Those who wish to know more about the process should visit the Citizenship and Immigration Canada website, which is packed with an exhaustive amount of information.
For a variety of reasons – not least my age, which renders me ineligible under the points system that governs skilled worker applications – the only route open to me is family sponsorship. Fortunately (and fortunate in so many ways) I am married to a Canadian Girl – and a kickass one at that!
The process by which a Canadian citizen can sponsor a family member is also, inevitably, complex and time consuming. There are two main components to the process:
The Canadian citizen must apply to be a sponsor for the family member.
Once approved the family member must apply for permanent residency.
Both applications must be submitted together, through the sponsor. It is still possible to apply if either the sponsor or the relation – or both (or niether!) – lives outside Canada.
Hmmm!
To avoid this treatise becoming just too perplexing I think I will leave the next chapter for a further posting. This will give your brain – and mine – a chance to recuperate.
Tags: Canada, Immigrant, permanent resident