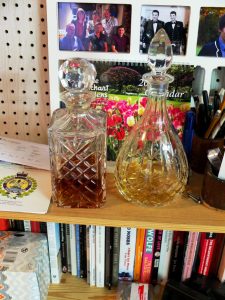 It has long been my habit to maintain a couple of decanters of spirits for everyday purposes. One of these is charged with whatever reasonably cheap brandy I can source locally (since it is intended for mixing with ginger ale or suchlike) and the other – the teardrop decanter in the accompanying image – with whisky. I tend to prefer J & B for this one – Justerini & Brooks being a familiar Edinburgh concern and this being their signature blend.
These decanters normally reside in some splendour upon the sideboard in our dining room. During the renovations they are perched on top of a bookcase in the hall/kitchen that forms the spine of our basement abode.
Yesterday found me once again vacuuming our cosy crypt in what is an ongoing effort to mitigate the ingress of the all pervading plaster (mud) dust. I had worked my way through the hallway and into the family room that is currently doubling as our living space and a warehouse for our goods and chattels. As I dragged the machine in behind me I thought I heard a noise from back in the hall. I stopped what I was doing and went to have a look. I could see nothing amiss so determined to think no more about it and to complete my chores.
This morning The Girl was herself sorting through some of the many items that are now vying for living space in our hallway. She picked up a redundant cardboard box in which some life-essential had but recently been delivered.
"Why is there a decanter in this box?", she queried. It took but seconds to determine what had happened. As I had moved the vacuum cleaner the power cord had caught around the decanter (the power socket being on the wall at dado height beside the bookcase) and whisked it off the shelves and into the open box below.
Here, of course, is where the luck came in. The box was still a third filled with packing material. The floor below is of concrete covered with a thin layer of vinyl flooring. Had the decanter hit the floor rather than the packing material in the box it would undoubtedly have shattered.
But that is not all. The decanter had come to rest on its side and the glass stopper had come loose and was lying in the box beside the decanter. I lifted them carefully out of the box and inspected them. As you can see the decanter was only about a quarter filled and – because of the vessel's shape and the angle at which it had come to rest – not a single drop had been spilled…!
…and I feel sure that you know just how much a Scot hates to waste good whisky!
I think that calls for a wee dram…