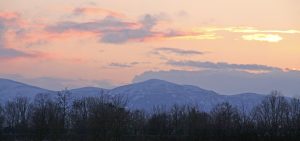 "The music is in the air. Take as much as you want."
Edward Elgar
It is highly likely that a fair proportion of the English expat community of Victoria were unknowingly gathered together in one place on Monday evening last.
The Kickass Canada Girl and I were amongst those attending the Royal Theatre for a concert by the Victoria Symphony Orchestra (the first such that I have experienced) featuring a programme which included works by Ralph Vaughan-Williams and Edward Elgar.
In musical terms one cannot get much more 'English' than this and the Brits appeared to have turned out in force!
Though I have long been a fan of Vaughan-Williams I was not previously familiar with the F Minor Tuba Concerto – the which work was featured on Monday. In common with most other commentators I do not find the bass tuba particularly suited to being featured as a solo instrument, but the orchestral passages in the piece are marked by the composer's familiar elegant phrasing and it proved to be most enjoyable as a whole.
Now – I grew up listening to Elgar. As would seem to be the case for many others I came first to the Enigma Variations, falling in love with the Nimrod and sensing that it somehow encapsulates much that is good at the heart of the English pastoral. I discovered the E Minor Cello Concerto somewhat later but the work has grown to have a profound effect on me. The piece – Elgar's last major work – was composed shortly after the end of the Great War (during which he had written very little) and has been described as a lament for a lost world. To me – and clearly to many others – its elegiac and melancholy mood captures to perfection the sense of tragic loss both of a generation and of the innocence of the 'golden summer' that preceded that catastrophic conflict.
The last time I head the Cello Concerto played live was at a concert at one of the schools at which I worked. The cello soloist (still a schoolboy at the time) was Tim Lowe – now a highly respected international performer. His rendition of the work moved me to tears, as did that of English cellist Raphael Wallfisch on Monday last. Wallfisch's reading is maybe a little more clear-eyed and less sentimental, but the power of the work over those of us who are susceptible (Englishmen mayhap?) is undeniable.
Mind you – the Nimrod also has me blubbing uncontrollably as well. I'm not entirely sure what to make of this, except that Elgar clearly tapped into something that speaks eloquently to at least some of us who hail from from that blessed plot.
The first time that one hears a 'new' orchestra is always a somewhat nervy experience. I am delighted to report that the Victoria Symphony – under its new director, Christian Kluxen – gave an entirely admirable performance. I very much look forward to hearing them again.