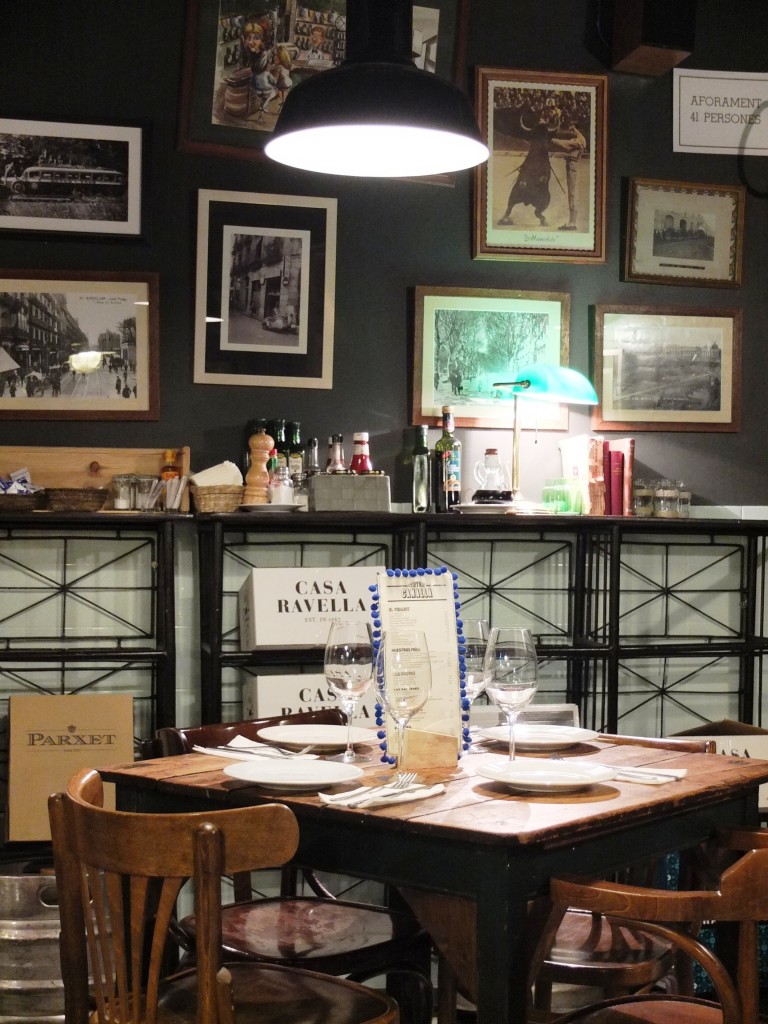 To mark our transit from Sitges to Barcelona on Wednesday last the Kickass Canada Girl organised something of a culinary coup – in the form of a gastronomic walking tour of the older parts of the city. This was arranged through the good offices of a concern called Spanish Trails – which the Girl had discovered through her latest 'fave' InterWebNet service – Chowhound.
The Spanish Trails wine and food tours include one by the appellation 'Tasting Barcelona' – which is described on their website thus:
"The focus of Tasting Barcelona is always great food and wine but with the important added opportunity for our guests to explore and experience the best of Barcelona's sites of interest as well as get a taste of the side street local flavor. Tasting Barcelona is a food and wine tour by nature, but is in turn an exciting and interactive way to experience Barcelona. We can comfortably host small group tours and private tours in a fun, personalized manner away from the crowds and with an amazing and plentiful diversity of wine and Catalan and Spanish tapas and gourmet dishes."
We were met by our entirely splendid host – Danny (a native New Yorker, ex chef and seven year resident of Barcelona) – in the Placa de Catalunya at 6:30 of the evening and availed ourselves of his enthusiastic tutelage for the next five hours. You will be unsurprised to hear that we learned a great deal – had a lot of fun – discovered previously unexplored quarters of the city – met some fascinating people – and genuinely wondered whence five hours had vanished…
Danny was excellent – knowledgeable, enthusiastic, personable… youthful! – and he did (and had!) a great job! He also took the trouble to follow up the day after our tour by emailing the Girl and I further recommendations and suggestions – which really was above and beyond. To Danny – many thanks!
Now, I'm not going to give details of the bars and cafes that we visited – you'll just have to sign up for one of the tours yourselves – but I am going to pass on Danny's descriptions of what we ate and drank. Just remember – envy is a sin! (Yes, I know – so is gluttony!)
Wine: Sumarroca, from Penedes (blend of Muscat, Gewürztraminer and Xarelo)
Food: Montadito de cuarto quesos & Montadito de Solomillo
Wine: Nekeas, from Navarra (100% Grenache)
Food: Patatas Bravas, Spicy Olives, Fried Artichoke chips, tortilla de patata, Croquettas de Pollo
Wine: Vermut de la casa (all the rage in Spain at the moment!)
Wine: Porron of red table wine
Wine: Petit Bernat (blend of Merlot, Cabernet Franc. and Picapoll Negre from DO Pla de Bages)
Food: Pan con Tomate, Iberico meat plate, cheese plate
Wine: Llopart Cava from D.O. Cava (blend of Macebeo, Xarl.lo & Parellada)
Yum!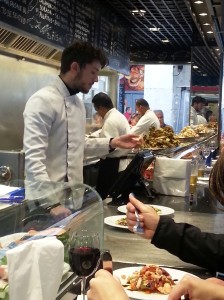 Naturally (for those that know us!) – this was not the end of our epicurean adventure – though for the remainder of our visit this veered from the sublime to the… even more sublime!
At Danny's recommendation we broke our fast sitting at the counter of the Kiosko Universal in the Boqueria – that amazing market off Las Ramblas which reminds me just ever so slightly of the Granville Island Market in Vancouver.
A freshly conjured plate of huevos y patatas or huevos y setas – the latter from a mound of fresh wild mushrooms on the counter – and a small glass of cold beer… what better way to start the day – especially after the night before?!
And what better way to continue it than a visit to one of the world's top cocktail bars – Javier de las Muelas' – "Dry Martini Bar" – in L'Eixample district. Their specialty is – you may already have guessed – the Dry Martini! I was impressed that they not only stocked my favourite artisan gin – Sipsmith – but that the MD of Sipsmith's had himself been a guest at the bar the week before.
Less good news – from the financial perspective – was that since my last visit a decade and more ago Javier de las Muelas has opened a restaurant – Speakeasy – adjacent to the bar. It would have been discourteous not to have had lunch there, and we are nothing if not polite! Very, very good it was too…
There is – of course – always a price to pay, and we must now haste our way back to the gym!
Bah!
Tags: Barcelona, Food & Drink, Holiday