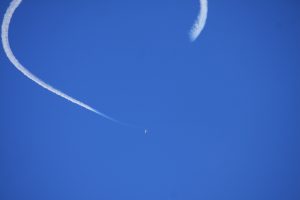 I could not resist sharing with the gentle reader this extract from a longer opinion piece concerning public offence – by Tim Dowling of The Guardian. In my view Tim absolutely nails it!
This snippet goes under the banner "In-flight entertainment":
"Which brings me to the giant penis in the sky. If you know about it at all, you will have seen the image online at the weekend: a huge penile outline – with testicles – drawn using the condensation trail of a US military aircraft. About 2,500 people from Okanogan county in Washington state had a brief opportunity to be offended by it, although I can't find any accounts of actual outrage – and one has to assume the locals are the source of all those gleefully retweeted pics.
I will admit that my first reaction to the image was: skill. I think all trainee pilots should be able to trace a passable penis in the sky before they graduate. The US navy thought different: it apologised for "this irresponsible and immature act", and grounded the air crew of the E/A-18 Growler responsible. But I have to say that this is my kind of public offence: immature, irresponsible and absolutely massive. If there's a better use of the $67m fighter jet, I can't think of it."
Too true…
Tags: Modern life