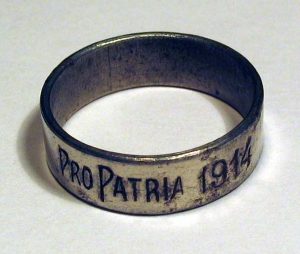 I have recently finished reading Peter Parker's 1987 book, 'The Old Lie' – which is helpfully subtitled 'The Great War and the Public School Ethos'. I came to it – as happens with many of the tomes to which I am drawn – through a reference in another book, though I can no longer recall the details of that volume nor the context in which it referred to Peter Parker's book.
For those perhaps unfamiliar – should such there yet be – the title refers to Wilfred Owen's first world war poem, 'Dulce et Decorum Est' – which ends:
My friend, you would not tell with such high zest
To children ardent for some desperate glory,
The old Lie: Dulce et decorum est
Pro patria mori."
The Latin quote which Owen brands 'The old lie' is by the Roman poet, Horace, and translates thus:
It is sweet and fitting to die for one's country
It is necessary also to understand that the public schools of the subtitle are those of England and Wales, which are pretty much the antithesis of public schools anywhere else in the world. As Wikipedia informs us:
A public school in England and Wales is an older, student selective, fee-paying independent secondary school which caters primarily for children aged between 11 or 13 and 18. The term "public" should not be misunderstood to mean that these are public sector schools: they are in fact private sector. Traditionally, public schools were all-male boarding schools, although most now allow day pupils, and many have become either partially or fully co-educational.
Public schools emerged from charity schools established to educate poor scholars, the term "public" being used to indicate that access to them was not restricted on the basis of religion, occupation, or home location, and that they were subject to public management or control,in contrast to private schools which were run for the personal profit of the proprietors.
The Clarendon Commission of 1861 – a Royal Commission set up to investigate the state of the nine leading public schools in England – concerned itself with seven boarding schools (Eton, Charterhouse, Harrow, Rugby, Shrewsbury, Westminster and Winchester) and two day schools (St Paul's and Merchant Taylors'). The 'Public Schools Yearbook' was published for the first time in 1889 – listing 30 schools – and by 1902 the publication further included all schools that were members of the Head Masters' Conference (HMC).
Given that to obtain a commission in the armed forces at the turn of the twentieth century it was necessary to be wealthy, to be well educated and to come from the 'right' background it is little surprise that the great majority of the junior officers in the service at the start of the war had been educated in these schools. As the war progressed many more of them joined up directly from school and, even when the numbers required for the ever swelling force argued a widening of the constituency, this was achieved by offering 'temporary' commissions (for the duration of the war only) to those from the middle classes with grammar and independent school backgrounds.
The eagerness with which many Britons rushed to war in 1914 is widely recognised, and perhaps none were keener than those who had recently left – or were about to leave – England's public schools. Even as the war progressed and the full horror of modern mechanical warfare became apparent there was no shortage of young men who believed that this moment in history was just that for which they had been born, raised and educated.
Just why these young men should have been so intoxicated by this zeal to serve and even, perchance, to die for their country is the subject of Peter Parker's book. I will delve further there-into in a subsequent post.
My particular interest in this subject? I spent greater part of the last two decades working for two of the schools listed above and have many colleagues and friends who gave their service to the others.