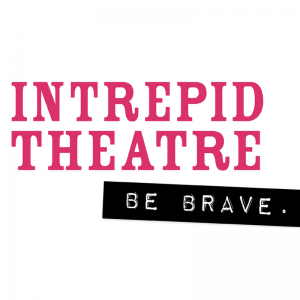 "That's why the words "Let's go!" are intrinsically courageous. It's the decision to go that is, in itself, entirely intrepid."
Tim Cahill
I made reference a couple of posts back to further personal news regarding the theatre/drama scene here in Victoria and promised an update in a post to follow shortly. Aiming to prove myself a man of my word… here it is!
Whilst in self-referential mode I would further draw the gentle reader's attention to previous postings to this blog on the subject of the Victoria Fringe Festival (be patient – there is a  connection) to which The Girl and I are enthusiastic attendees. The fringe is one of three festivals hosted by the splendid Intrepid Theatre, who have been promoting theatrical events on Vancouver Island for some thirty years. Intrepid are clearly one of the major cultural players in Greater Victoria.
A couple of months back The Girl drew to my attention an item on the Intrepid website to the effect that the company was seeking interested parties to serve on their board of directors. Such board posts are – quite naturally – voluntary and though the ideal candidate would undoubtedly have experience in the area of fundraising (which I do not!) the main requirements would seem to be an enthusiasm for the theatre, some experience of involvement in similar non-profit endeavours and (as is the certainly the case for me) sufficient time on ones hands to be able to render useful service. At any rate, my progress through the interview and AGM voting stages went smoothly (as it did for two other neophytes) and Intrepid has gained a fresh batch of eager faced supporters for its board.
Formalities over, the first order of business was the twentieth incarnation of Intrepid's 'Uno Fest' – a feast of solo performances over a week and a half in the company's two venues, the Intrepid Theatre Club and the Metro Studio. The board director's main role in such events is to attend performances and to help to drum up support, as well as to volunteer to pick up and drop off performers at the airport or ferry port as they arrive and depart from Victoria. I attended five performances and ferried four of the performers. This latter 'task' is quite simply a delight. One gets the chance to chat to actors, directors and writers whom one might recently have seen in action (or be about to see).
The keynote opening performance – by Canadian theatrical luminary Daniel MacIvor – was entitled 'WTF' (What's Theatre For) and was a thought provoking disquisition on why those of us who do make theatre – and why many of those who don't attend it. I was lucky enough to be able to run Daniel back to the airport a couple of days later. He is a very interesting man!
It is immediately clear that involvement with such an excellent organisation will bring me into contact with many more of those involved in the theatre here in Victoria.
All good stuff indeed!