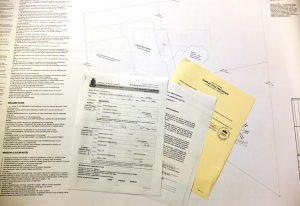 "You don't need planning permission to build castles in the sky…"
Banksy
…though unfortunately you do in British Columbia to carry out a wide range of renovations to your own particular castle!
Viz – from the North Saanich Municipality website:
Building Permit
Many home renovations require a Building Permit. Failure to acquire a permit BEFORE starting will result in a double fee. Building Permits are required BEFORE you:
– Renovate, repair or add on to an existing building
– Construct a new home
– Construct a new accessory building or structure greater than 10 m2 (107 ft2) (no services 1 story)
– Remove, relocate, alter or construct interior walls
– Complete a previously unfinished area in an existing building
– Construct, reconstruct, cover or enclose a porch or sun deck
– Demolish, relocate or move a building
– Construct a swimming pool, hot tub or spa pool deeper than 1 metre 3.28 ft.)
– Construct retaining walls over 1.5 metres (4.9 ft.) or more in height (professional engineering required)
– Construct a fence over 2 metres (6.56 ft.) or higher in height
– Make plumbing additions or alterations
– Any inspections listed in Section 12.1 of Bylaw No. 1150 requires a permit
– All seawalls, even if they are less than the 1.5m height
I duly visited the North Saanich Municipal Offices the other day to deliver the necessary paperwork to apply for a building permit for our upcoming sunroom removal and deck renovation project. Should the gentle reader be wondering just how much effort is required for such an undertaking, the list is but a short one:
Completed 'Building Permit Application' form (available from the municipality's website) – this gives the legal details of the property and of the specifics of the contractor and of the project itself
Completed 'District of North Saanich Building and Plumbing Bylaw 1150, Schedule C' – essentially a waver to protect the municipality from any unforeseen consequences of the project
A copy of the owners' 'State of Title Certificate' (obtainable from the Land Title Office in Victoria)
Two copies of the architect/designer's drawings
The requisite fee – the amount of which is based on the value of the project
What should also have been included (a requirement for properties built prior to 1990) was a copy of a 'Hazardous Materials Assessment & Abatement Report'. We have arranged an inspection for this coming Friday and are keeping our fingers crossed that nothing too hideous is revealed in the resultant findings.