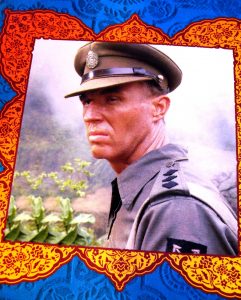 It was with great sadness that we heard the news over the weekend of the passing of that wonderful British actor – Tim Pigott-Smith.
Still performing on the stage in his seventieth year, Tim Pigott-Smith was amongst the very best of his generation of thespians and was duly awarded an OBE in this year's New Year Honours for his services to drama. His career encompassed film, TV and stage – with wide screen appearances in films such as 'The Remains of the Day', 'V for Vendetta', 'Clash of the Titans' and 'Quantum of Solace', and starring stage roles in (amongst many others) 'King Lear', 'King Charles III', 'Enron' and 'A Delicate Balance'.
It was a TV role, however, that was to make him a household name; the part of police superintendent Ronald Merrick in ITV's 1984 adaption – under the title 'The Jewel in the Crown' – of Paul Scott's epic quartet of Raj novels. Pigott-Smith deservedly won a BAFTA award for his portrayal of this complex and flawed character, standing out even amongst the glittering array of talent that had been attracted to this vast and ambitious project.
I was certainly far from alone in declaring in 1984 that this be the finest television drama that had yet been made; beautiful filmed and acted, thoughtful adapted and deeply thought provoking to view, complex, stirring and heart-breakingly moving. This was television drama as the highest possible art form. In the three decades since the series' first showing I have still seen nothing to compare with it.
We were fortunate enough to have met Tim Pigott-Smith on a number of occasions through friends of ours. For once the old adage that one should never meet one's heroes seemed simply not to apply in his case. He was a complete gentleman, generous with his time and attentions and an excellent conversationalist. There is no question that he will be greatly missed.
I think that it is perhaps time to re-watch "The Jewel in the Crown"…