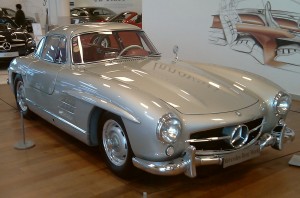 Long distance runaround
Long time waiting to feel the sound
I still remember the dream there
I still remember the time you said goodbye
Did we really tell lies
Letting in the sunshine
Did we really count to one hundred
Jon Anderson
One here for the Kickass Canada Girl, who has a bit of a 'thing' about the 300SL Gullwing. Well – who doesn't?
The Girl is on her way to Victoria – via Hong Kong and Vancouver! This somewhat bizarre route is a result of the complete change of plan between booking a return ticket from Canada to attend our good friends' wedding in Hong Kong at the start of November, and then later realising that she would also need to get to London by November 6th for a job interview. The only course open to her was to book another return flight from Hong Kong to London and then to adjust the return flight dates so that they co-coincided. As a result she now has a 24 hour stop-over in Hong Kong before carrying on to British Columbia.
Once she has wrapped up her affairs there and re-packed all her belongings for the return to England, she has a relatively simple return journey – in two weeks time – via Vancouver and Chicago! Well – when you are booking last(ish) minute in the run up to Christmas you have to take what you can get…
When she returns one thing in our lives will have changed – hopefully for good. We will no longer be in a Long Distance Relationship – or LDR as the TLA has it. Those who have followed these posts for a while may well have seen some of my previous musings on the subject. If you have come to this post as the result of a Google search on such matters let me refer you here, here, here and here where you might find some slightly more useful material. If you want to know how living apart has been over this last ten months, the Long Distance Relationships category herein will guide you to any number of my grumbles and gripes.
That I am sounding valedictory on the subject (if such one can be) is because the first – and most important – of the many lessons that I am sure the Girl and I will learn from this… unusual… year, is that we should not be apart! We didn't like it – we won't do it any more!
To those of you whose LDRs must persist – or to anyone about to embark on such – you have our heartfelt sympathies. Of course, for some people it works… for us it was tough, unpleasant, painful and definitely not to be repeated.
So – raising a wee dram to those that must endure – I say "Sealbh math dhuibh".