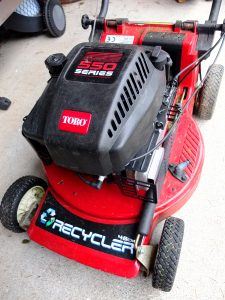 Contrary to popular wisdom – or at least to the wisdom of popular song – the first cut is not always the deepest (ho, ho! – see what I did there?).
As you may gather from the accompanying image my subject here is cutting the grass (or mowing the lawn, should you so prefer). More specifically it concerns that all important 'first cut of the year'.
The Royal Horticultural Society has this to say on the matter:
"For the first mowing in spring, set the cutting height to the highest setting. Thereafter, gradually reduce the height of cut until the desired height is reached. For fine lawns, this will be 6-13mm (¼-½in). For ordinary ornamental lawns this will be 13-25mm (½-1in) in summer and up to 40mm (1.5in) in spring and autumn."
Now – in no way does our lawn aspire to the 'fine' designation nor perhaps even – should one be perfectly honest – to that of an 'ordinary ornamental lawn' (the 'ornamental' being the debatable point here) but there is surely no harm in harbouring such ambitions on behalf of our (half) acre(s)!
Country Living magazine adds this:
"When cutting your lawn for the first time, you should always follow the one third rule: never cut more than a third of the blade of grass in one go. This is because cutting more than this can stress the grass. You should gradually reduce the grass length over a number of weeks to reach the desired length. Cutting the grass too short, too fast, is known as 'scalping' which can lead to disease and weed infestation."
Here, here – say I! And so the lawn was duly mowed – with great care and consideration so as not to stress the grass!
Actually – the subject of this post is not the cutting of the grass itself so much as that with which it was effected – and of the great kindness and generosity of dear friends. When first we arrived upon these shores and moved into our splendid ocean-view residence we abruptly found ourselves in charge of an estate of just shy of half an acre – much of which is laid to grass. Grass which was growing vigorously!
As ever in moments of need I turned to our dear landscape-gardening friends in Saanichton. The head honcho duly promised to look out for a second-hand machine for me and in the meantime lent me a mower from their fleet to tide me over. I have had that mower now for a year and a half!
Well – no more. Our friend finally found me a splendid Toro (The Bull!) mower – in excellent nick and a considerable bargain to boot. I have gratefully returned his machine and now find my self (somewhat to my surprise for the first time in my life) the proud owner of a proper lawn mower.
We are, as ever, overwhelmed by the generosity of friends and to them extend again our grateful thanks.
Now all I need is a gas trimmer…