You are currently browsing articles tagged France.
A good photograph is knowing where to stand
Ansell Adams
I do not claim for a moment to know where to stand… but I cannot in any case resist posting some more random images from France.
This is La Rochelle – which we had not previously visited.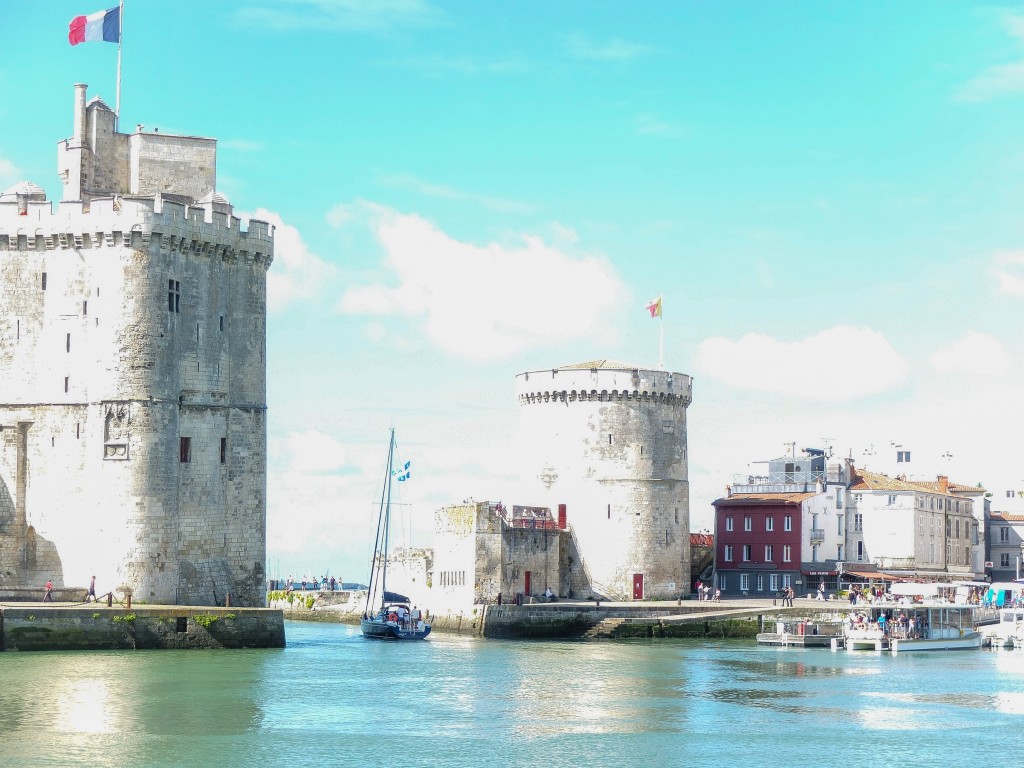 These are random passing sights that took my fancy:
And this is from the Chateau de Tennessus: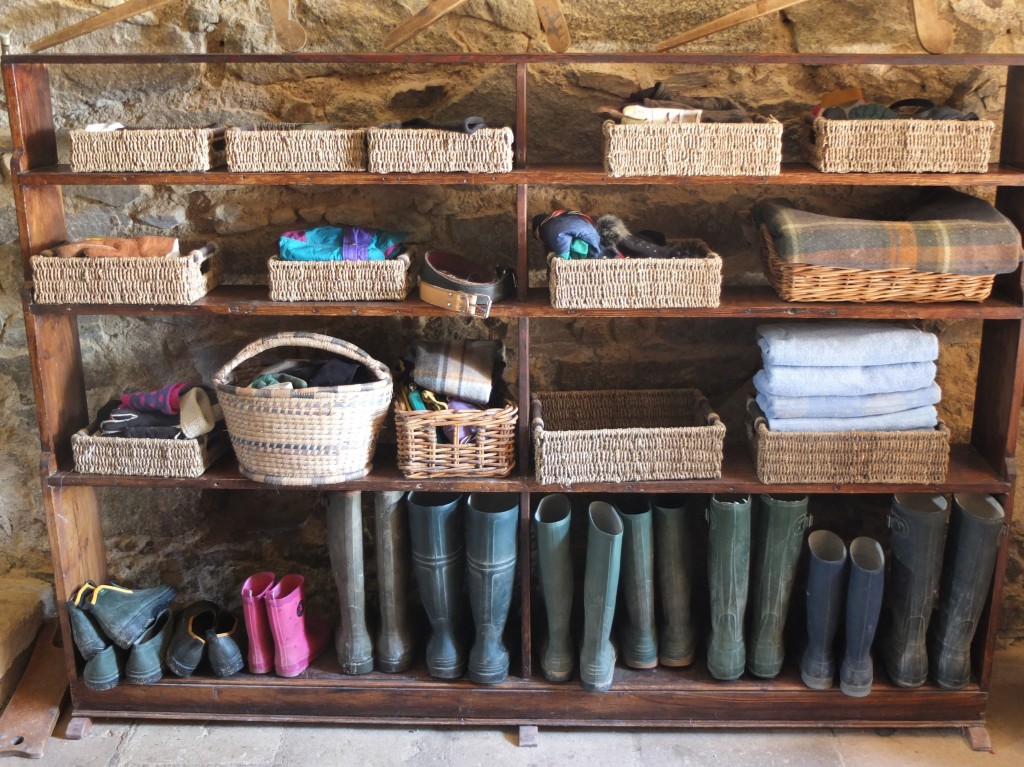 I must also at this point express hearty congratulations to the English ladies who triumphed against the Canadians in the Women's Rugby World Cup on Sunday evening last in Paris. The Canadians were not by any means disgraced, having put up a really strong performance. They will certainly feature strongly in future competitions. The Kickass Canada Girl is just about speaking to me again!
On our way to the charming region of the Poitou Charente that is to be our home for the next week we spent a couple of nights in what might best be described as a fairytale medieval castle – the Chateau de Tennessus. This twenty five year labour of love on the part of its English owners is a testament to what can be achieved if one is prepared to invest a simply extraordinary amount of work, art and money into what is quite clearly an overarching passion.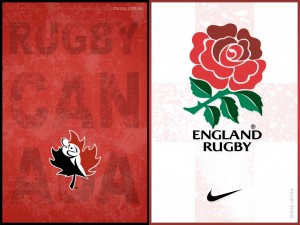 Avid followers of these obscure obita dicta may well recognise the image at the top of this post. I used it for the occasion last year on which the Kickass Canada Girl and I ventured to the Twickenham Stoop to see the English ladies take on their Canadian counterparts at the 'gentlemanly' pastime of 'rugger'. In that instance – to the Girl's chagrin – the home team proved too strong for the visitors.
I re-use the image now because the two sides meet again this coming Sunday – but this time in Paris for the final of the Women's Rugby World Cup! How exciting!
The English ladies have made a number of appearances in World Cup finals and have indeed once lifted the trophy. On the last few occasions, however, they have been well beaten by New Zealand – who were indeed favourites again for this tournament. Canada have not previously finished higher than seventh – so really are entering uncharted territory. The two sides have already met in the pool stages this time around – the result being a tantalising 13 all draw.
The Irish ladies did everyone a favour by knocking out the All Blacks but seemed by yesterday's semi-final against England to have exhausted themselves in the process – the English romping home 40 – 7. The Canadians then opened up a good lead against the hosts – France – but had to endure sustained pressure in the closing 20 minutes – just holding on to go through 18 – 16.
We wish the very best of luck to both sides for Sunday.
As it happens we will be in France over the weekend – though not particularly close to Paris. This is probably a good thing since we would be very tempted to try to get to the game in spite of it already being a sell-out – the which itself is a fantastic result for the women's game.
We are taking a brief break from the rigours of work and spending a week in the company of the good friends whose wedding we attended in Hong Kong a couple of years back. They have rented a gite in the Poitou Charente for three weeks and we will spend the first of those with them. We leave this very evening!
Expect photographs…
The great beauty of the Fuji X10 is that it is small enough and light enough that it can simply be carried over my shoulder pretty much everywhere I go. It is also at the same time both versatile and yet simple to use. As a result I can quickly fire off shots whenever I see anything that tickles my fancy. The great step forward that digital represents, of course, is that one can execute as many such as one desires – with no cost implications and the ability to rapidly lose any results to which it is just too embarrassing to admit. Goodness knows how we managed in the days of film!
Herewith a few more snaps from our recent travels.
For our recently (and most sadly!) concluded sojourn in the Perigord we stayed in a beautiful apartment at a wonderful old manor house not far from Périgueux. Our hosts there – Catherine and Maxence – go out of their way to make their guests feel welcome, to the extent of introducing them to – and involving them in – the delights of life in the small village that is their home.  The house is called Le Maine and I encourage anyone seeking a tranquil and delightful stay in the region to investigate. We were in 'La Cuisine d'Alice' and we loved it! I can't recommend it highly enough…
Herewith some images – although those on the site above (taken by Catherine – a professional photographer!) do the house and grounds considerably greater justice than ever I could.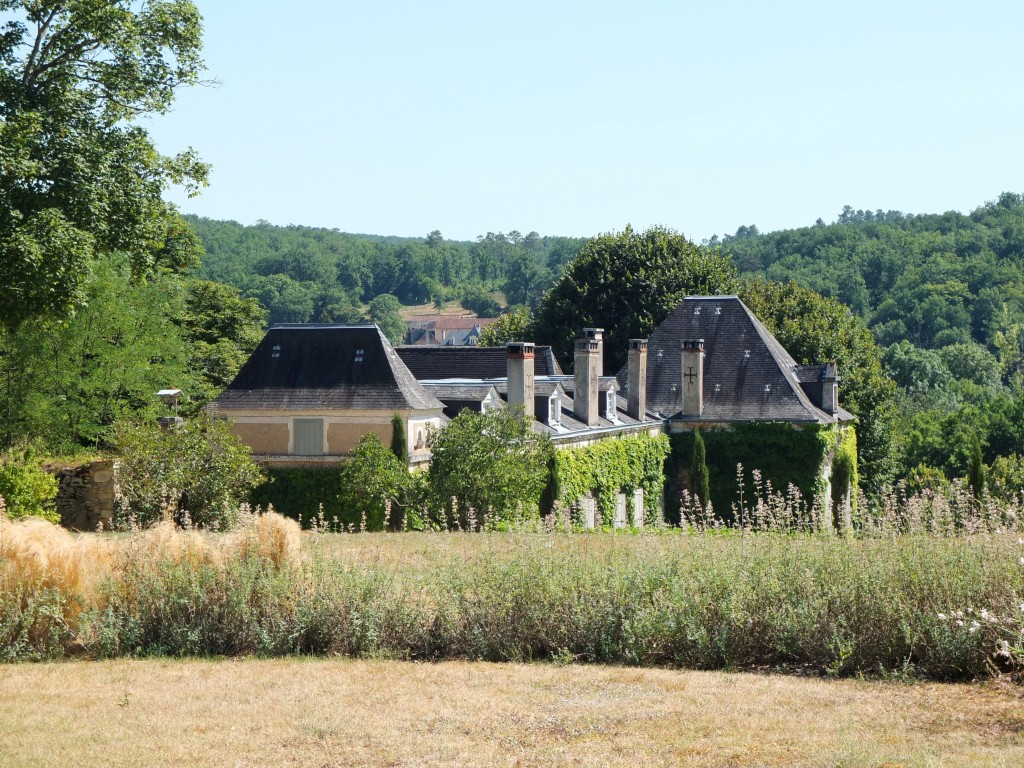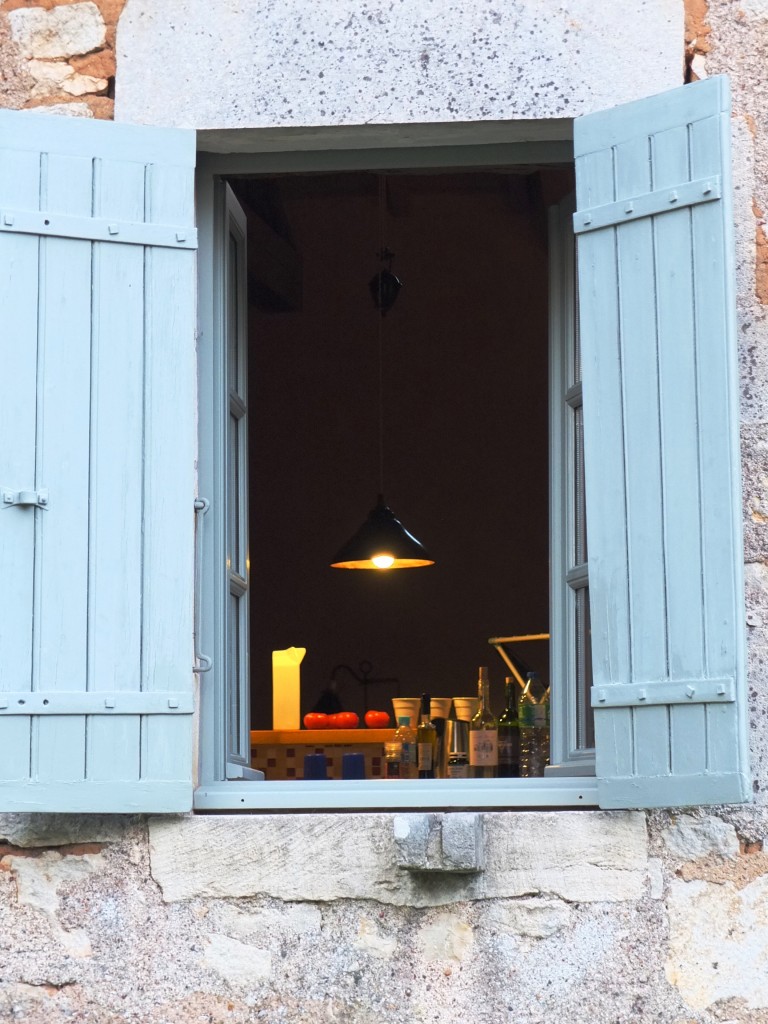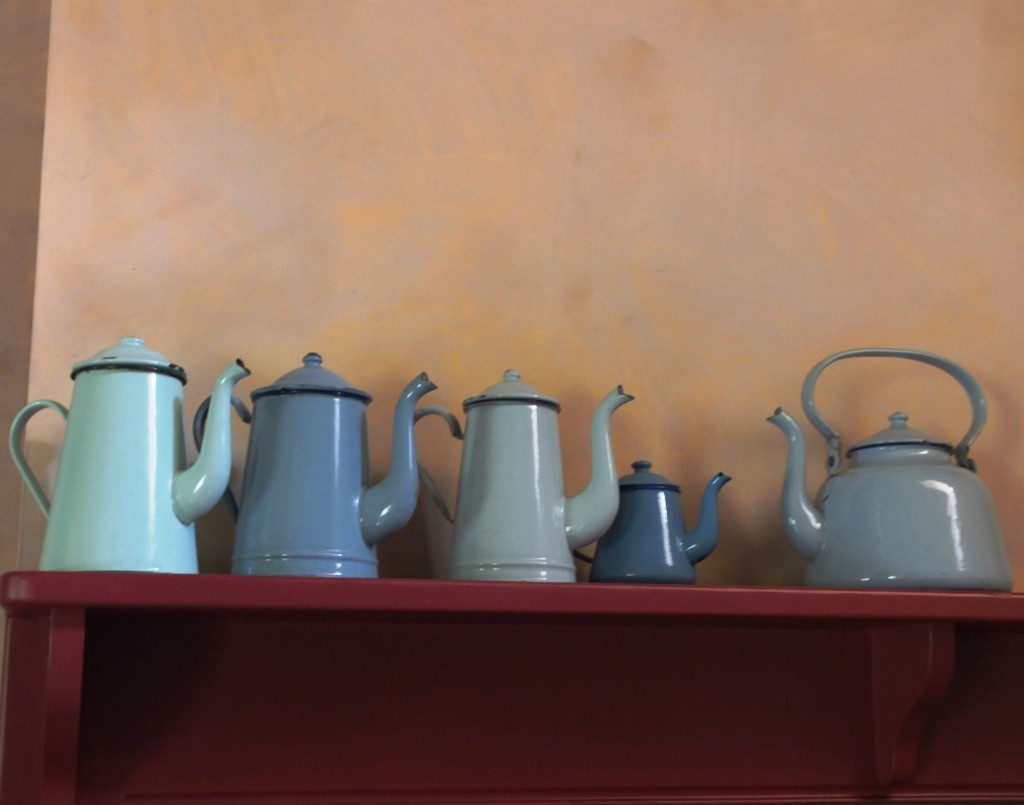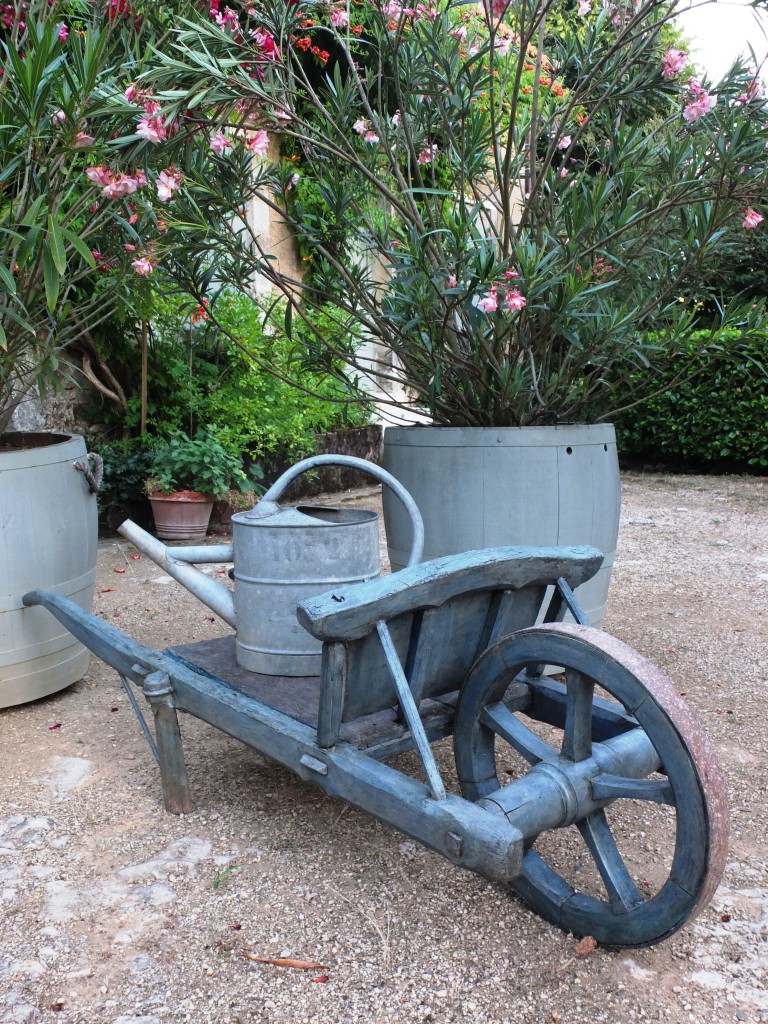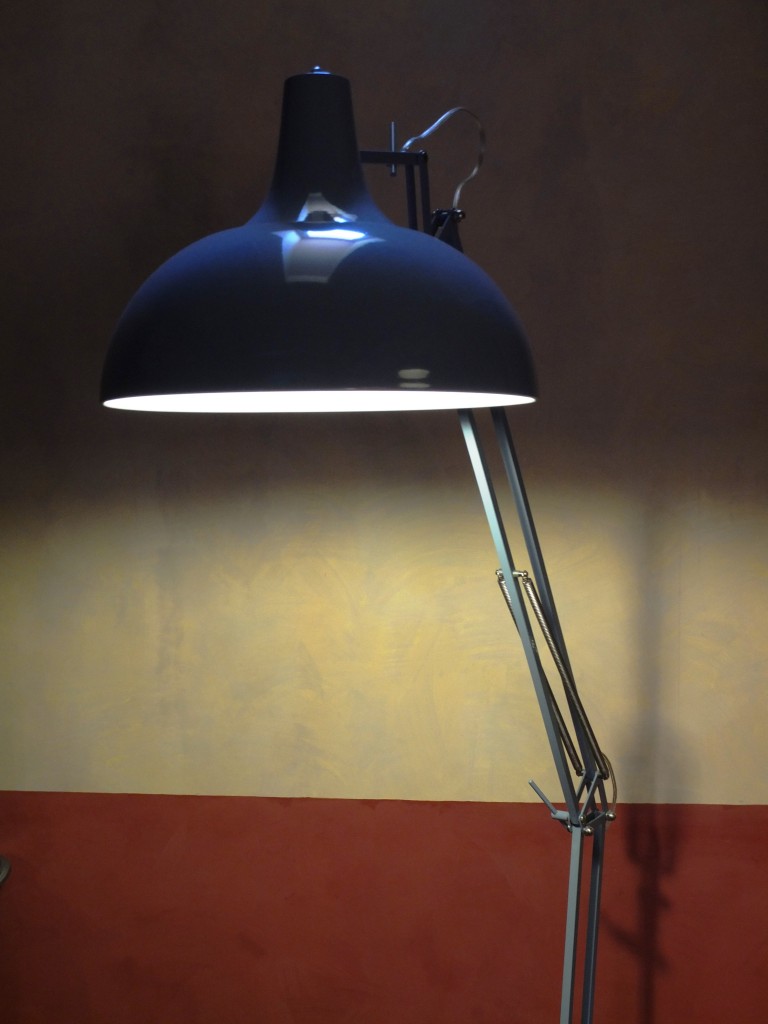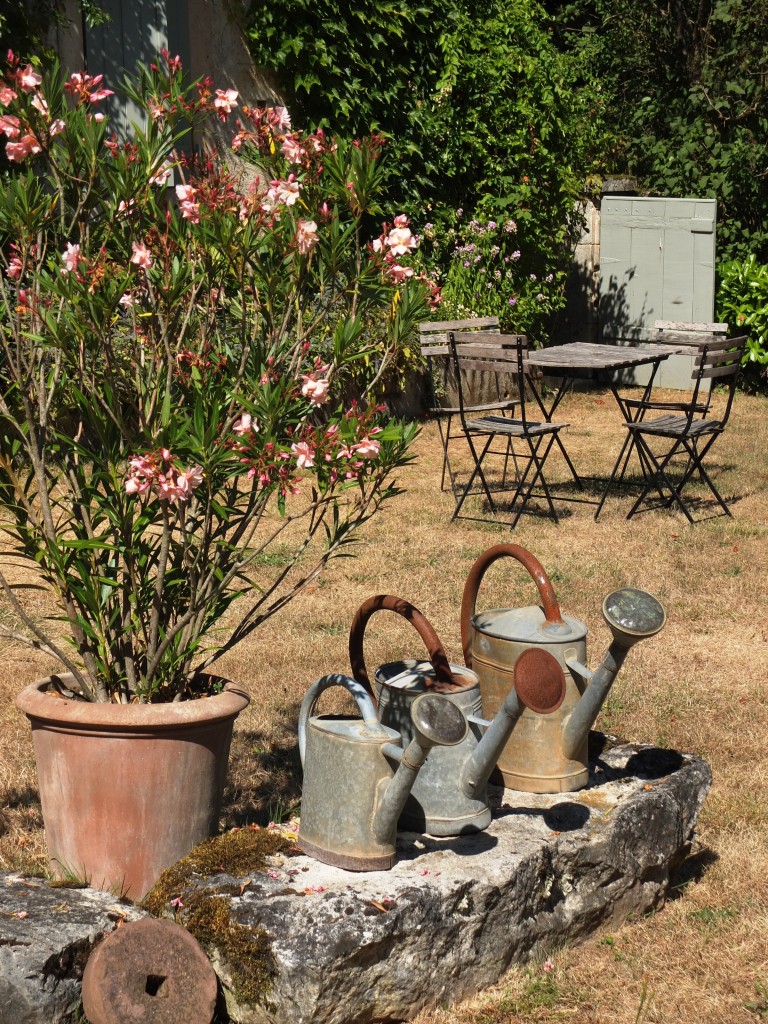 In addition to being a professional illustrator, Maxence (who teaches art and who also curated a splendid exhibition of Perigordine artists – to the opening of which we were invited) plays a mean harmonica! On our first night in the village he enticed us to the tiny but 'happening' local bar – Le Cube – where a completely splendid Anglo-French duo called Buckshee entertained us to a wild evening of French, Irish, Cajun, bluegrass, swing, rock and roll, calypso and soca musics. Great and sweaty fun!
The band's website gives some idea as to their multi-instrumental capabilities. Not content simply to display their own array of talents they invited a local English lad (who is blessed with a great swing voice!) and Maxence onto the tiny 'stage' area to belt out a stomping version of Van Morrison's 'Moondance'. No photo could do this justice. This is a close as I could get…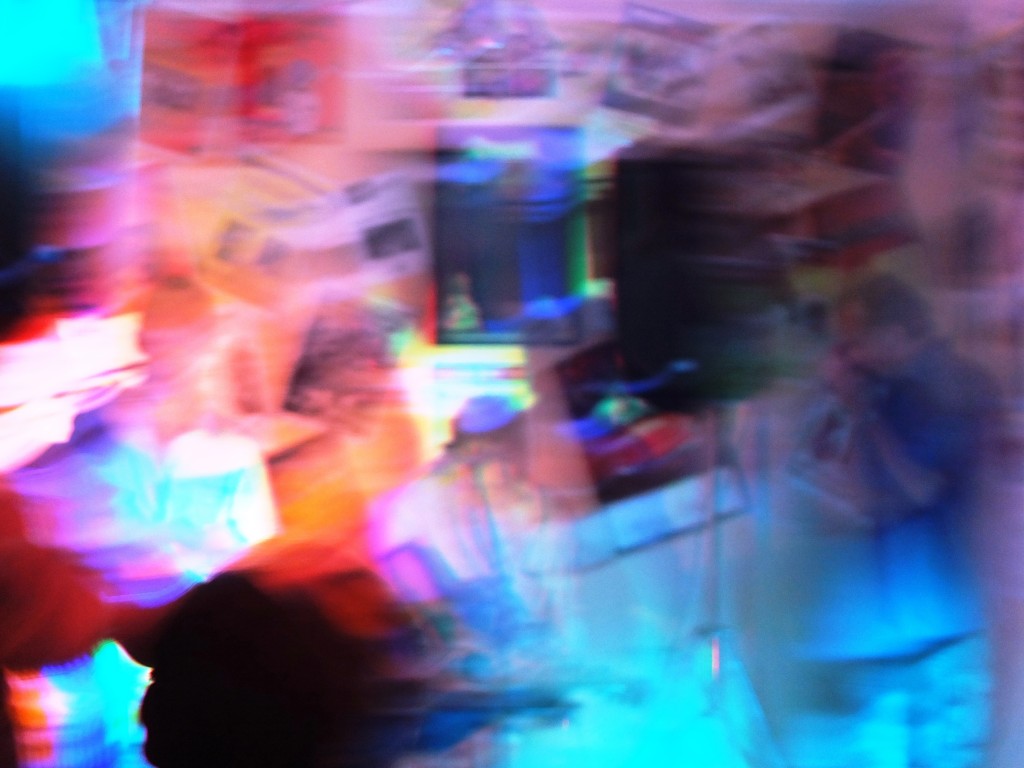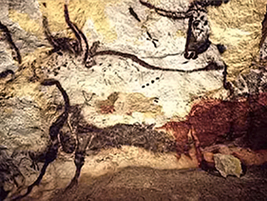 One of our reasons for choosing the Dordogne for this brief break from our daily grind in the UK is that the Kickass Canada Girl has an enthusiasm for pre-historic cave art. I found myself wanting to write 'Neolithic' then rather than 'pre-historic' because it just somehow felt right, but the period in question is actually the Magdalenian, of which – I must confess – I had no previous knowledge at all. This is – however – from the man who complained after sitting his physical geography 'A' level paper that there had been no question on glaciation – a subject on which he had particularly 'mugged up'. Sadly that mugging up had not included the key phrase 'Pleistocene Era'. Doh! My, how the other kids laughed!
Anyway – the Girl came to the subject through the works of the American authoress – Jean M. Auel – who wrote the 'Earth's Children' series of books, of which 'The Clan of the Cave Bear' is the first and – possibly – the best known. Now – I must admit to not having read any of these titles but – as those who know me will be only too aware – I have always been drawn to those who have an enthusiasm for pretty much anything and in this case the Girl's avidity was infectious. Hence, the Dordogne… hence, trips to a number of cro-magnon sites.
We have in the last few days visited cave sites at Rouffignac, Lascaux and Peche Merl. All were fascinating in equal measure, whilst all being at the same time completely different.
Rouffignac is an extensive 'dead' limestone cave system. In other words, though the caves were formed by the action of acid-laden water they are now completely dry. The system is sufficiently extensive that visitors travel to a depth of approximately a kilometer underground on a small electric railway that winds its way through the subterranean passageways. The caves feature both engravings – many of which are of mammoths – and drawings of horses, bison, ibexes and rhinoceroses. One of the many mysteries of this cave art is that there are no representations of the animal with which Magdalanian Man was most familiar (it comprising the better part of his diet) – the reindeer.
Several days later we paid an unexpected visit to Lascaux. The reason I say 'unexpected' was that all of the Girl's research prior to our journey south suggested that getting to see any of the cave systems might prove difficult. The numbers allowed into the caves on any given day are extremely small since preservation of the fragile drawings is the imperative and they can be damaged by an excess of carbon dioxide in the air. Visits to most sites – according to the literature at least – cannot be booked before the day concerned and thus queues form very early in the morning to ensure entry.
Our hosts in the Dordogne – of whom more in a later post – advised us that this was a gross exaggeration, and indeed we arrived at the ticket office for Lascaux (in the neighbouring village of Montignac) at 10:30am and acquired tickets for an English tour at 11:00am. Not much of a wait there! A similar story could be told concerning Peche Merl. The website advised that tickets could be reserved in advance, but that to do so one had to book a week or more ahead. Ploughing ahead regardless I was able to book tickets just a couple of days in advance – and for the time of our choice. The lesson is – don't at believe everything that you read on the InterWebNet – though I expect that you knew that already.
At Lascaux – of course – one cannot see the original cave itself, it now having been sealed safely away from heavy-breathing visitors. The clever French have – however – created a complete underground replica of the cave which they call Lascaux II. This millimetre exact copy of the original is made of concrete and is thus not prone to the decay that is endemic to the limestone equivalent. Even in copy form Lascaux was exquisite.
However beautiful it may have been, however, we had clearly saved the best until last – with Peche Merl. This cave is in the valley of the Lot, rather than that of the Dordogne, and was a two hour trip from where we are staying. It was – as you will see if you follow the link above – completely worth the trip, with fabulous and moving drawings of horses, mammoths and outlines of the human hand, but also with a dazzling display of stalactites and stalagmites. Those of you who remember the works of Roger Dean will recognise clearly the organic forms built up over the millenia in the rock formations. Perhaps the most moving details of all were the footprints of a cro-magnon adolescent which had been preserved at the bottom of a dried out pool. Really quite spooky.
There are many strange and unexplained phenomena in these eerie grottos in the limestone hills of the Perigord. I may revisit the subject in a future post – or perhaps even persuade the Girl herself so to do.
Herewith some images captured with the trusty x10 as we made our way south through France. Just off the ferry from Newhaven to Dieppe (a crossing that I had not previously tried but which was really most easeful – not to mention being as smooth as a millpond on this occasion) we spent a night in Rouen: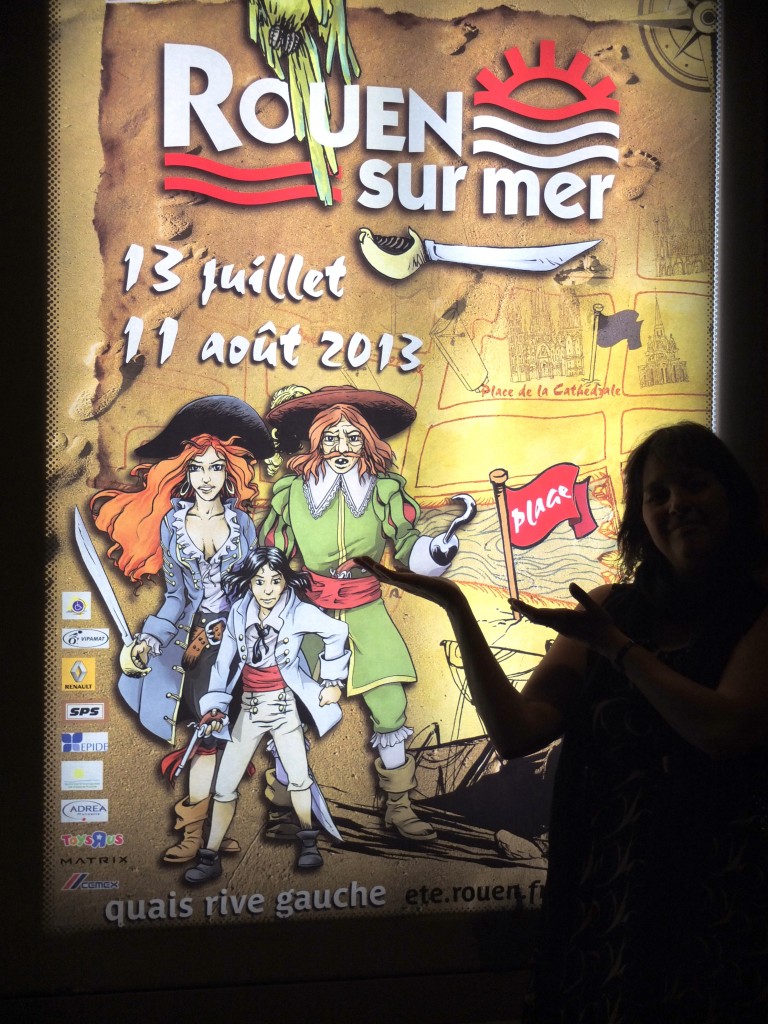 …where we witnessed a splendid Son et Lumiere projected onto the frontage of Rouen cathedral – inspired by the works of Monet.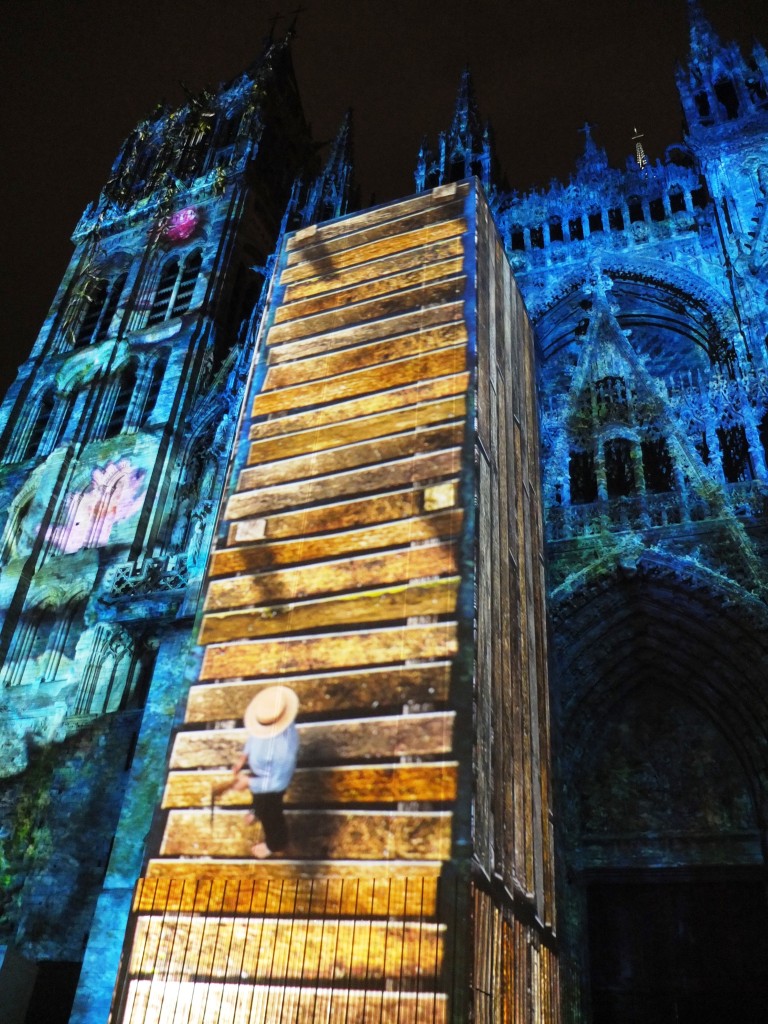 On the second night we stayed in the Loire Valley at the Chateau des Arpentis. For a B + B this is one pretty cool place – and one which we loved!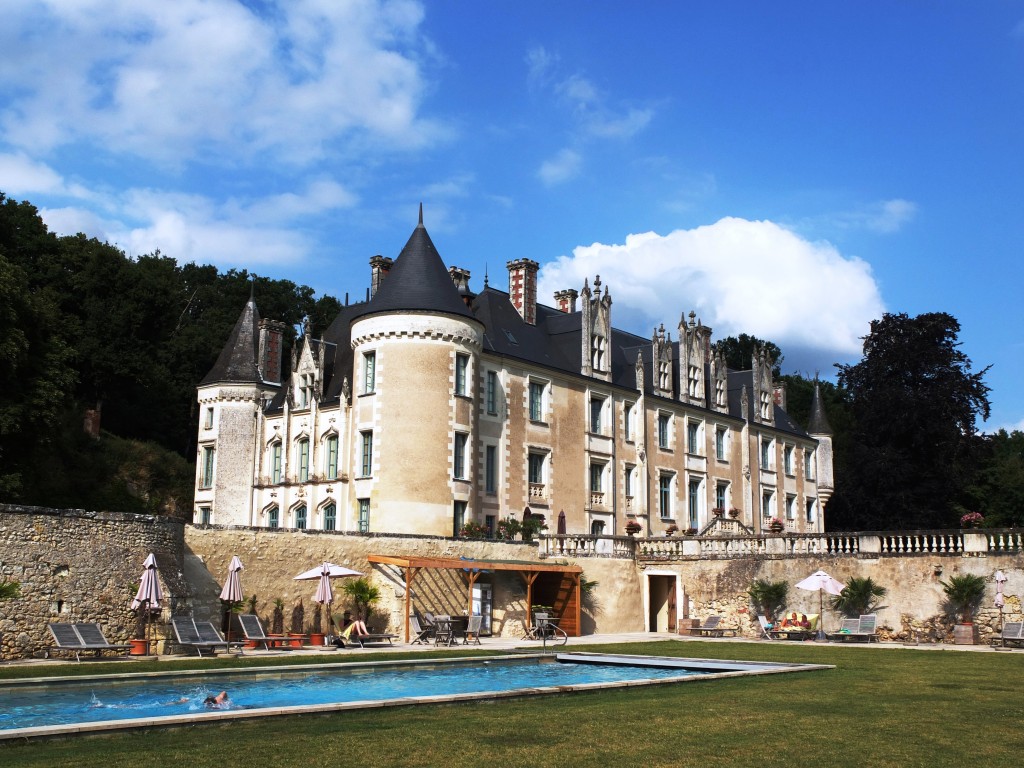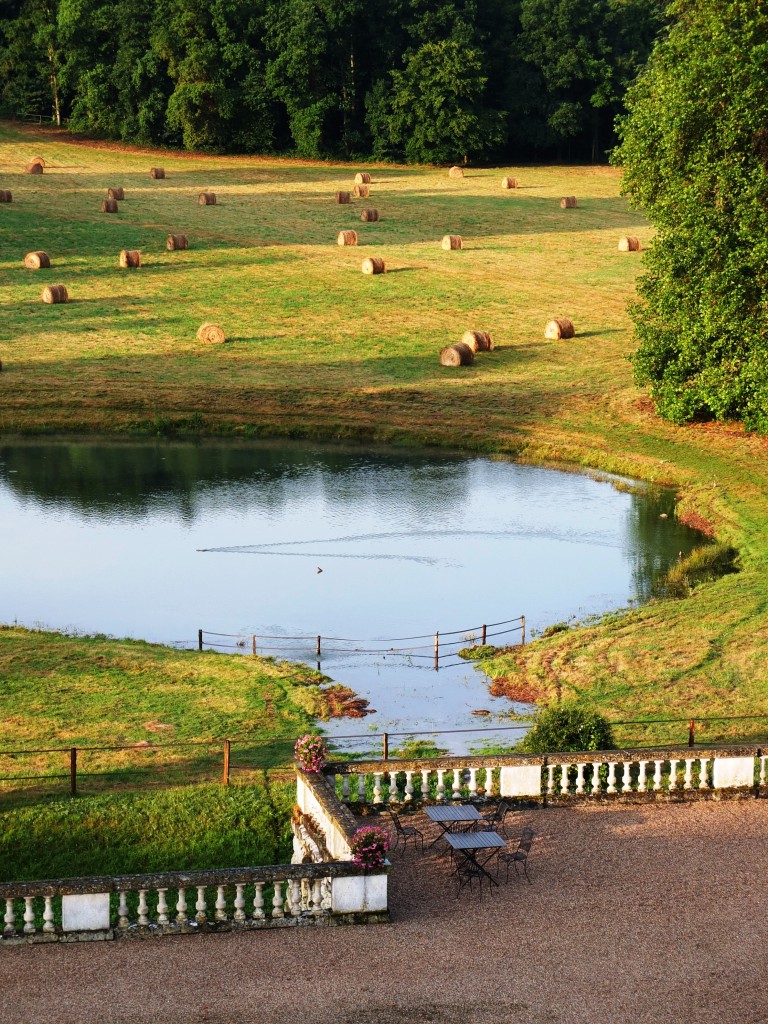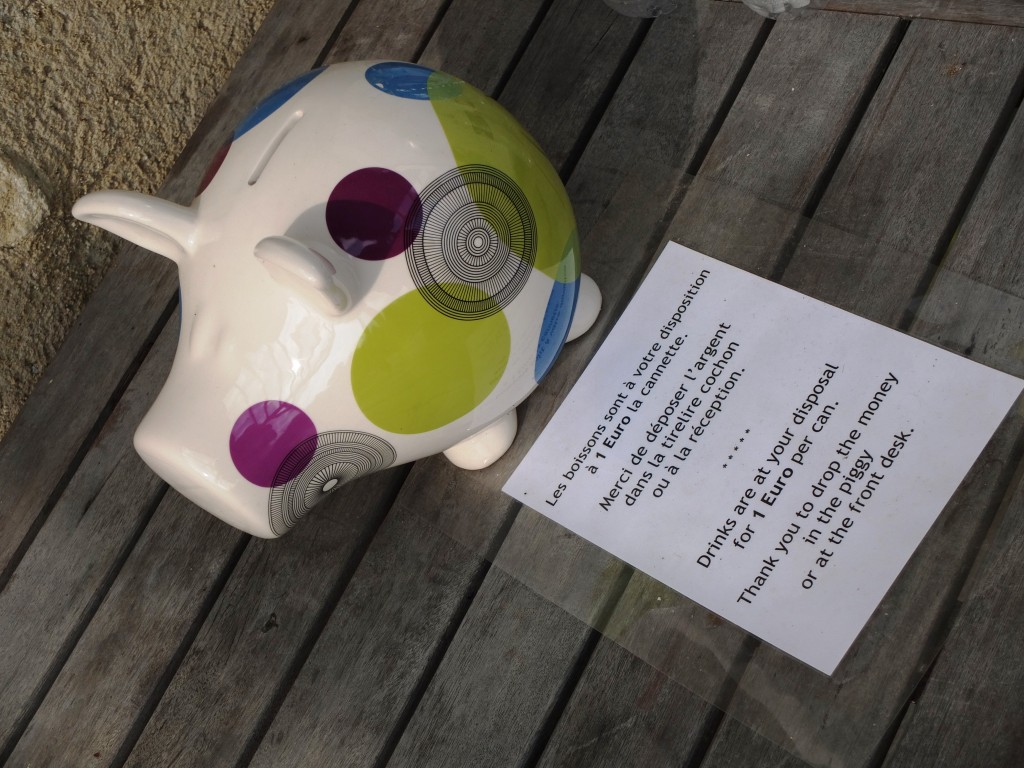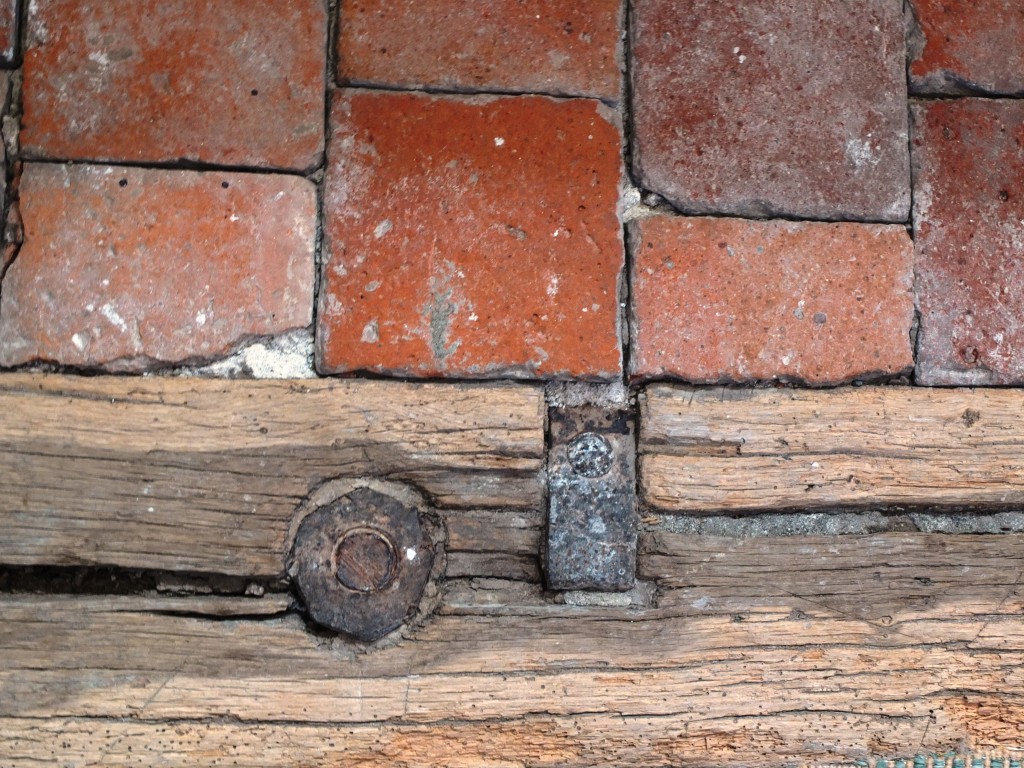 The evening was completed by a wonderful al fresco dinner at Les Closeaux near Amboise.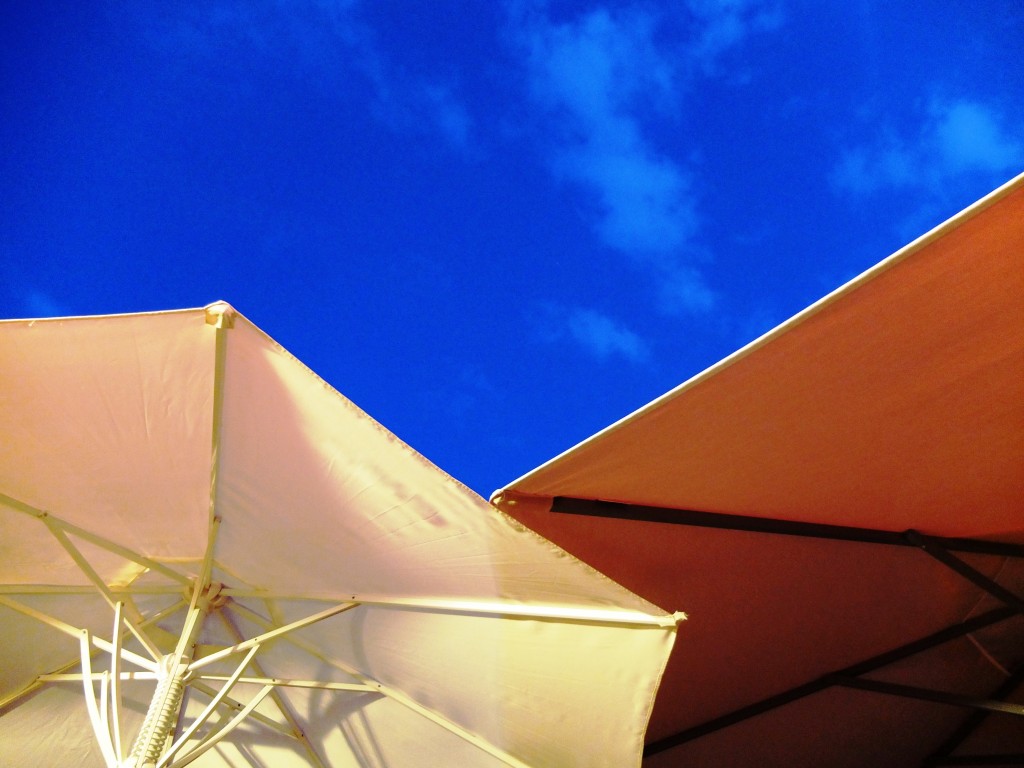 The next day saw us in the Dordogne. More to follow…!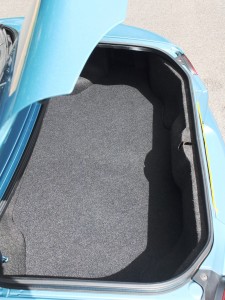 Tomorrow the Kickass Canada Girl and I head for France. As mentioned previously we intend to meander slowly down to the Dordogne over a period of some three days in the Girl's spanking new convertible (well – new to her… You know what I mean!).
Now – the boot (Canadian – trunk!) of the Mazda (Canadian – Miata!) is the cutest wee thing going. It is good to see that the Japanese made no concessions whatsoever to utility when designing the ultimate 'British' sports car and that they wasted no efforts either there or in the strictly two-seater cabin on such fripperies as storage. As a result packing for the trip presents an interesting challenge.
I have discoursed briefly before on the Girl's packing habits. She has – naturally – been working on the problem already for the best part of a week. It might appear – to the uninitiated – that her method consists of emptying out her entire wardrobe and then successively dismissing items 'not required on voyage' until such time as she can shoehorn the remainder into whichever trunks, valises and other items of baggage have been selected for the journey. To suggest that this were indeed the case would be a scandalous calumny and a terrible mistake, which I – for one – do not intend to make. However, given that the sum total of her travelling wardrobe must fit into two small soft bags I sense that this time her skills may be tested to the limit.
Being a chap – of course – I will simply toss a couple of t-shirts into a bag at the last possible moment and call it good. Well – there have to be some advantages to chapdom!
And if – by chance – I find that I have forgotten something, then the odds are good that the Girl will have packed said item instead – and I can simply borrow it!
Good luck with that one – as they say…
Tags: Cars, Convertible, France, Holiday, Travel