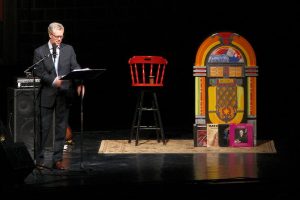 Before I came to Canada in 2015 I was entirely unaware of Stuart McLean, or indeed of the much loved weekly CBC Radio show – The Vinyl Café – that he hosted for more than twenty years.
I am absolutely certain that the Kickass Canada Girl – who has long been numbered amongst the humourist and storyteller's many fans – had for my benefit at some point extolled his virtues long before we crossed the pond for keeps, but I am a bear of advancing years (as well as very little brain) and there has been such a lot to learn (this is called "getting your excuses in early"!).
Once in Canada, of course, and having had the opportunity to experience the show 'in the flesh' (so to speak) I rapidly became a convert too. It was therefore deeply saddening to hear the news this week that Stuart had succumbed to the melanoma that he had been battling for more than a year.
I am way too much of a Vinyl Café neophyte to be able to indite anything remotely apposite at this point. I urge the gentle reader instead simply to 'Google' "Stuart McLean" and to peruse some of the many tributes to the man. This page of twitter reactions gives a good idea as to just how deeply loved he was.
For myself all I would say is that there was something about his writing and on-air manner that reminded me of how radio used to be when I was growing up in the UK, where my earliest exposure to the outside world came exclusively from the BBC's 'Home Service' (later Radio 4). That's pretty much as good as it gets in my book.