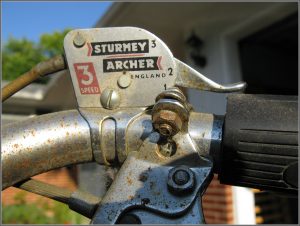 It did not occur to me for a single second that – when during the composition of my last post, (touching as it did upon the subject of my new bicycle) I described the Sturmey Archer three-speed rear hub with which the cycle that I was given in 1965 as 'prehistoric' – said engineering marvel might actually still be in production!
Discovering from the InterWebNet that this is indeed the case I was rendered what can only be described as 'gob-smacked'!
Sturmey Archer was apparently established in Nottingham in the UK in 1902 as a division of Raleigh Cycles and production of their most ubiquitous model – the AW three-speed hub gear – commenced in 1936. For an extended period virtually every three-speed bicycle sold in the UK was fitted with a Sturmey Archer hub gear.
The company got into financial trouble towards the end of the last century and by 2000 was on the verge of bankruptcy. Following a period during which it appeared that the company would disappear without trace the entire assets were eventually sold to a Taiwanese company called SunRace, who moved the whole operation lock, stock and barrel to Taiwan.
Despite discovering that much of the machine tooling was obsolete SunRace persevered with production of the hub gears – and as of 2016 the famous three-speed AW model (amongst many others) was still in production.
Now – whereas I cannot for the life of me imagine what I am going to do with at least two thirds of the twenty four gears that I have on my new machine, I am mighty glad that I don't still have to cope with the old three-speed hub gear.
But then – I am an old codger these days!