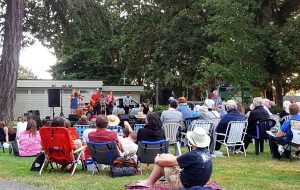 "Even so, there were times I saw freshness and beauty. I could smell the air, and I really loved rock 'n' roll. Tears were warm, and girls were beautiful, like dreams. I liked movie theaters, the darkness and intimacy, and I liked the deep, sad summer nights."
Haruki Murakami, 'Dance Dance Dance'
Summer is at its height and that must perforce mean that Wednesday evenings are spent in Pioneer Park, Brentwood Bay, chilling with friends on the greensward, dining al fresco and listening to some good music.
The season was caressed into life at the beginning of July by the smooth but soulful stylings of The R & B Toasters and the Butterhorns from Vancouver. These guys are all old hands and could probably crank this stuff out in their sleep. They feature one of the tightest rhythm sections I have heard in a good long time and for an outdoor gig their sound was exemplary – punchy and tight. I expressed my admiration to the bass player and drummer at the end of the show and they admitted that they had been playing together for a very long time.
Week two brought us Auntie Kate and the Uncles of Funk. Auntie Kate sings the blues and The Girl and I have seen her before – The Girl many times! We both agreed that she was in even better voice than we had heard previously. There is obviously something in the Vancouver Island summer air that brings out the soul in a performer.
We were looking forward to week three as – it seems – were many other inhabitants of the Saanich peninsula, evidenced by the extensive crowd staking out their spots in the park well before kickoff time. The focus of this interest was Dustin Bentall and the incredible Kendel Carson. Dustin has been mentioned in these dispatches before – being the son of Canadian superstar Barney Bentall – and Kendel is his even more talented other half. We have seen them both with The Caribou Express and if expectations were high they were well lived-up to. Kendel has a gorgeous voice and is a hugely gifted fiddle player – not to mention being 'awful easy on the eye!' – as they saying (probably) goes.
Week four's offering – Echo Nebraska (pictured above) – were always going to struggle to match the Bentalls. They have a decent singer but the rest of the band are a perhaps little one dimensional and they still have much to learn. They are yet young though…
As can be gleaned from the image above, the bands currently play on a small temporary stage just outside the Brentwood Bay library. As of next season they will instead grace a purpose built and very beautiful permanent stage (construction of which has just started) courtesy of the fundraising and organisational efforts of the Brentwood Bay Community Association. Kudos all round – say I – for such a splendid campaign and fantastic effort.
We are in little doubt the the remainder of this season will match the standards set thus far – which means that we are all in for further treats!
Good-oh!
Tags: Celebration, Music, Summer