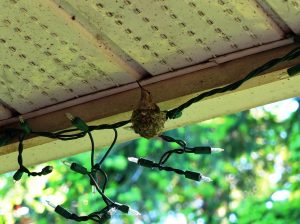 Of all of the many joys that the natural world has to offer the expat from Europe one of the most enthralling is the prevalence of hummingbirds throughout the Americas. These amazing, beautiful but minscule birds are simply not found in the wild to the east of 'the pond'.
For the price of a cheap plastic hummingbird feeder and a bag of sugar one may readily contrive countless hours of wonder and entertainment throughout the year as the diminutive creatures besport themselves before our mesmerised gaze (although not, of course, actually for our benefit!).
The nesting habits of hummingbirds are – however – considerably less public and significantly more mysterious. This – from 'Birds & Blooms':
"Like a crown jewel, the nest of a hummingbird is one of the great wonders in all of nature. They are so tiny, yet so perfect. Few of us have ever seen a hummingbird nest. This is because they are nearly impossible to find. From the ground, they look like another bump on a branch. From above, an umbrella of leaves conceals them. And from the side, they look like a tiny knot, quilted with lichens, plant down and fibers."
…and this from 'The Spruce':
"Hummingbirds choose safe, sheltered locations for their nests, ensuring that their hatchlings are protected from sun, wind, rain or predators. The most common nest locations are in the forked branch of a tree, along thin plant branches or sheltered in bushes. Thicket-like areas or thorny bushes are especially preferred for the extra protection they provide."
Why should it be – therefore – that one particular hummingbird has chosen to construct her nest (the males play no part at all subsequent to conception) in the string of festive lights that I had left up for far too long after Christmas – immediately outside our front door? Hardly a 'safe, sheltered location', given that most traffic into and out of the house passes immediately below the spot. Did the bird simply not notice?
Given that 'The Spruce' advises:
"Like all nesting birds female hummingbirds can be shy and skittish, and may abandon nests if they do not feel secure. It is always best to keep your distance from a nest and enjoy it from afar rather than risk harming the nest or chicks by being too eager to see them."
…we have been forced to adopt a new route into and out of the house – through the garage…
We know our place!
(I do encourage the gentle reader to enlarge the attached image by double-clicking it. I didn't want to get any closer to the nest and my little Fuji camera has only a limited zoom).
Tags: Fuji x10, House, Hummingbirds, nature