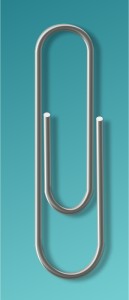 First things first…
My humble apologies to the reader who is possessed of – and insists upon using – an iImplement of any hue. Any such who endeavoured to look upon the images recently uploaded to this unassuming journal will doubtless have noticed that they have – in terms of orientation and scaling – appeared somewhat out of kilter.
That I had not myself noticed this issue before now is entirely due to the fact that when viewed through a Windows based browser all appears as it should. In any case, the site has now been fixed and should render properly on all platforms.
The problem arose – as is all too often the case these days – because the technologies involved are trying just that little bit too hard to be clever.
I fear that I am not a fan of software that tries to second-guess what I am aiming to accomplish, and even less if it thinks that it can help me to achieve same. It is extremely rare in such circumstances that I end up with that which I actually want – rather than with something that a faceless corporation thinks I should want. As a result, whenever I install a new app or item of software which is endowed with any such smart-arse automation features my first reaction is to seek out the settings menu and to disable the lot of them. Should this not be possible then it is extremely unlikely that the wretched thing will remain long in my possession.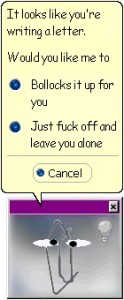 I am reminded here of the erstwhile Microsoft Office Assistant – that built-in help system to the Office 'Desktop Productivity Suite' (yeuch!) that at one point took the form of an animated cartoon paper-clip (humorously named 'Clippy') that would pop up at inopportune moments with 'helpful' advice.
This anthropomorphic little gimmick annoyed people to such an extent that it was eventually and unceremoniously killed off, to the cheers of all concerned.
Clippy was also – and not surprisingly – extensively parodied… one of my particular favourite examples being that appended here.
"What the blazes" – I hear you cry – "does this have to do with the photos on your blog?"
Bear with me and I will explain…
Modern digital cameras record – alongside the images themselves – a considerable amount of information pertaining thereto. This information – known as metadata – includes such items as the camera settings, the date and time that the pictures were taken and even, on some cameras, the associated GPS co-ordinates. Much of this data is stored alongside the images themselves in a format called the EXtended Image Format – or EXIF.
One item thus recorded is the orientation of each photograph. The camera has a sensor that tells it which way up it is, and when one rotates it through 90 degrees to get a 'portrait' shot rather than the standard 'landscape' variant the camera records this.
All well and good thus far. The problems start when the image is transferred to a computer for processing. I always check images on my PC before uploading them to this blog, so that I can adjust light and colour values and do any cropping necessary. Now – much Windows based image handling software completely ignores the EXIF data and, as a result, portrait oriented images are displayed sideways. I can rotate these images manually to get them the right way up, but the fact that I have done so is not recorded by any modification of the orientation data that accompanies the image.
What happens next depends once again on the software concerned. When I upload an image to a WordPress site – such as this blog – the EXIF data goes along with it and is stored – in some form – in the WordPress database. When a picture on the blog is viewed through a browser both the image and the metadata are passed to the viewer.
Windows browsers ignore the EXIF data and render the picture as I wish it to be seen – rotated manually to the correct orientation. IOS on the other hand – on all those iThings – determines from the EXIF orientation data that the picture was originally taken at a 90 degree angle and rotates it once more, making it once again come out sideways.
There appears to be no way of instructing any of the software concerned to modify this behaviour. What makes matters worse is that things are not consistent. As software versions change so also does the the default image handling behaviour. This latest problem appears to have arisen a couple of months ago from a change in the way that WordPress handles image uploads. I can tell this because images uploaded prior to this point still render as expected, but those taken subsequently do not.
The answer that I have adopted – you will not be surprised to hear – is to do the job myself. I use a basic image editor to orient the photo the way that I want it and I now use an EXIF editor to remove the orientation field completely to prevent further manipulation. This is – frankly –  all a total pain and should not be necessary.
As ever the problem really arises because users want one thing and the software and hardware vendors want another. Both are keen on clever gadgets that make life easier, but users would like these to adhere to standards so that everything plays nicely together, whereas the hardware and software manufacturers design their fancy must-have toys so that they are sufficiently different to those from other vendors that – once suckered in – the poor shopper has no choice but to go on spending his or her hard-earned cash on their goodies alone.
We are – it would seem – very well endowed with clever developers and designers who are capable of inventing quite unbelievably smart gizmos. Sadly we are also encumbered by lousy marketing and sales functionaries who can only figure out how to generate a revenue stream therefrom by being a total pain in the arse.
Sadly it was ever thus!