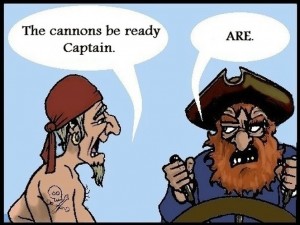 Herewith a couple of items that came to my attention over the weekend – and that I couldn't resist sharing…
This image – brought to our notice by our dear friends in Saanichton – is part of a strip entitled 'Grammar Pirates'. The full strip – which can be found here – is the work of Scott Clark and can be found on his rather wonderful blog – 'Kind of Sketchy'.
Those who know me well will be all too aware of why I find the notion of 'Grammar Pirates' totally irresistable… grammar – word-play – paronomasia (look it up!)… and pirates!! What's not to like?!
I found this in the magazine of The Observer – my Sunday read of choice. Their regular brief interview column – 'This much I know' (which is subtitled 'Famous faces share their life lessons') features a selection of edifying – and frequently humorous – 'sound-bites' from the well known.
This week's contributor was the Scottish actor Brian Cox – now in his late sixties. He recalled working with Olivier:
'Sir Laurence Olivier was quite elderly and frail when I worked with him. But he was a fox – he would wrong-foot people. I remember him forgetting his lines on set and saying, "Did anybody see Michael Hordern as King Lear? He knew all his lines. But I'm still a better fucking actor than he is."'
Priceless!