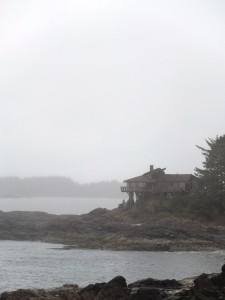 It may seem somewhat hypocritical for someone who recently wrote a piece on envy to do what I am about to do – to wax lyrical about our sojourn in Tofino celebrating my sixtieth birthday – but I fear that on this occasion I intend being entirely shameless with regard to this grevious lapse – claiming the prerogative of recently acquired age for so doing (even though my actual birthday is not for another week or so).
Our room at the wonderful Wickaninnish Inn is at one corner of the building and has four picture windows on two sides overlooking the ocean. One can lay in bed watching the dawn evolve slowly over the breaking waves, warmed by the gas coal fire which fills the space between the two windows in front of the bed.
The slate-lined bathroom has a soaker tub large enough for two bodies to lay side by side and also looks out over the ocean. Blissful hours can be spent simply gazing at the ever-changing sea. It is quite a wrench to leave the room at all, but not to do so is to miss out on the other delights that the 'Wick' – as the locals know it – has to offer.
There is a fitness room overlooking Chesterman beach. There is a gorgeous spa in which we indulged ourselves with a lovely Hawaian-style 'Lomi Lomi' treatment – one of the best massages I have had in a good long while.
There is also – naturally – a splendid restaurant at which we officially celebrated my entering a seventh decade. The excellent tasting menu included two world-class courses – one of Sablefish and the other a blood orange dessert – whilst our passionately knowledgable server introduced us to a wonderful and previously unknown (to us) BC Pinot Noir from the Foxtrot vineyard in Naramata. Yummy!
The restaurant bar also holds one of the best collections of single malts that I have seen outside the Auld Country and we felt obliged to finish the evening with a short tasting flight of some of its rarities.
All in all a wonderful few days' rest and relaxation, and very difficult to leave.
You may be glad to hear – however – that karma has a way of keeping one's feet firmly on the ground even when one is flying close to bounds of heaven. The Kickass Canada Girl and I have both contracted colds! This is hardly surprising – I suppose – given that – a) it is winter – b) we have just fully relaxed for the first time since September – and c) we have been staying in a house with our dear friends' two young sons!
Further karmic justice was delivered by means of a rare blogging-related accident. I was laying on my back on the bed with the iThing propped on my chest checking my previous post when I lost control (physically!) of the device and it fell forward and struck me smartly – with the edge of the glass screen – full on the bridge of my nose… leaving me with a painful and embarrassingly visible wound…
Welcome back to the real world!